MIT FinTech Challenge 2019
A two-day FinTech event as part of the campus-wide celebration to launch the MIT Stephen A. Schwarzman College of Computing
As part of the campus-wide celebration to launch the MIT Stephen A. Schwarzman College of Computing, MIT is inviting the community to participate in hands-on challenges to illustrate how MIT students are advancing computing innovation and discovering the connections between computing and other disciplines.
The FinTech Challenge is presented by the Martin Trust Center for MIT Entrepreneurship and the MIT FinTech Club.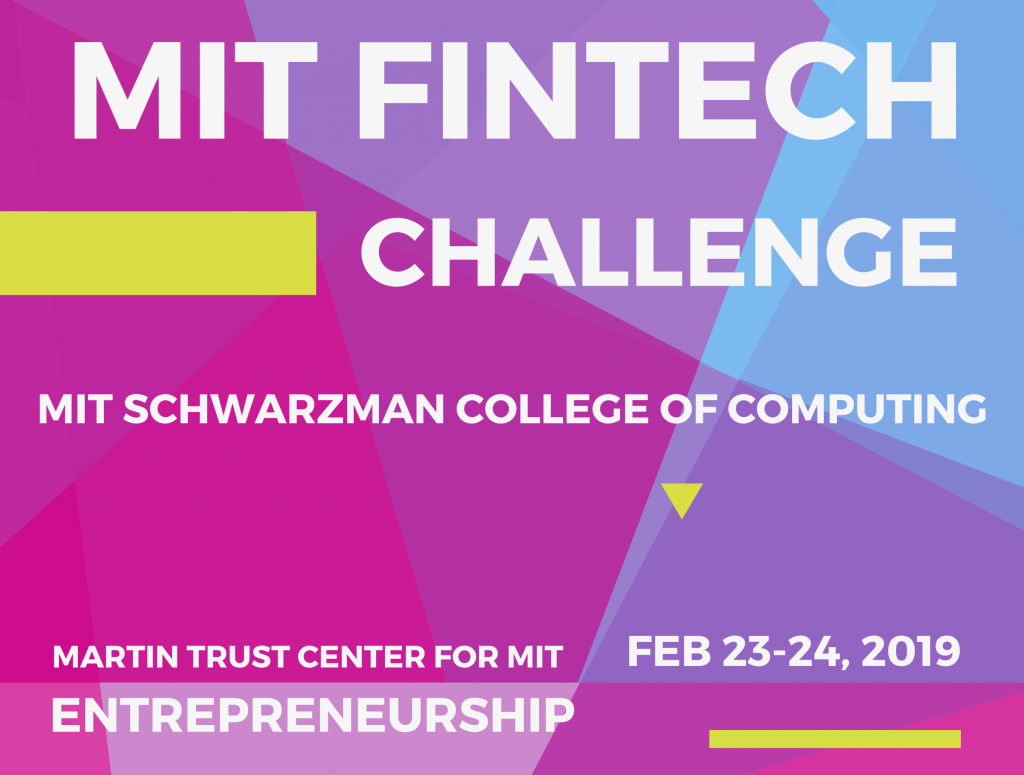 The MIT FinTech Challenge is a two day hackathon and one of the Computing Connections Challenges to celebrate the launch of the MIT Stephen A. Schwarzman College of Computing. This event will bring together leaders in multiple industries to discuss how new technologies can be used to solve the hardest problems facing our modern economic and banking system.
Bring a team or join one when you arrive to compete for the $5,000 grand prize, a 75" 4K TV, an iPad Pro, Red Sox tickets, a Bose portable speaker, 10x $100 Amazon gift cards, and tickets to the MIT FinTech Conference.
The Martin Trust Center for MIT Entrepreneurship will host the FinTech Challenge for two days — Saturday, February 23 and Sunday, February 24 — and MIT student winners will be invited to share their results at the Computing Exposition on Tuesday, February 26 as part of EXPLORE: The Student Experience. You will be joined by FinTech thought leaders and investors who will share their insights during fireside chats, presentations, and with one-on-one mentorship.
This challenge is open to the public, but each team must have at least one MIT student.
Speakers & Panelists
During the FinTech Challenge we will have experts joining us to share their insights and experience with you. The confirmed speakers and panelists are: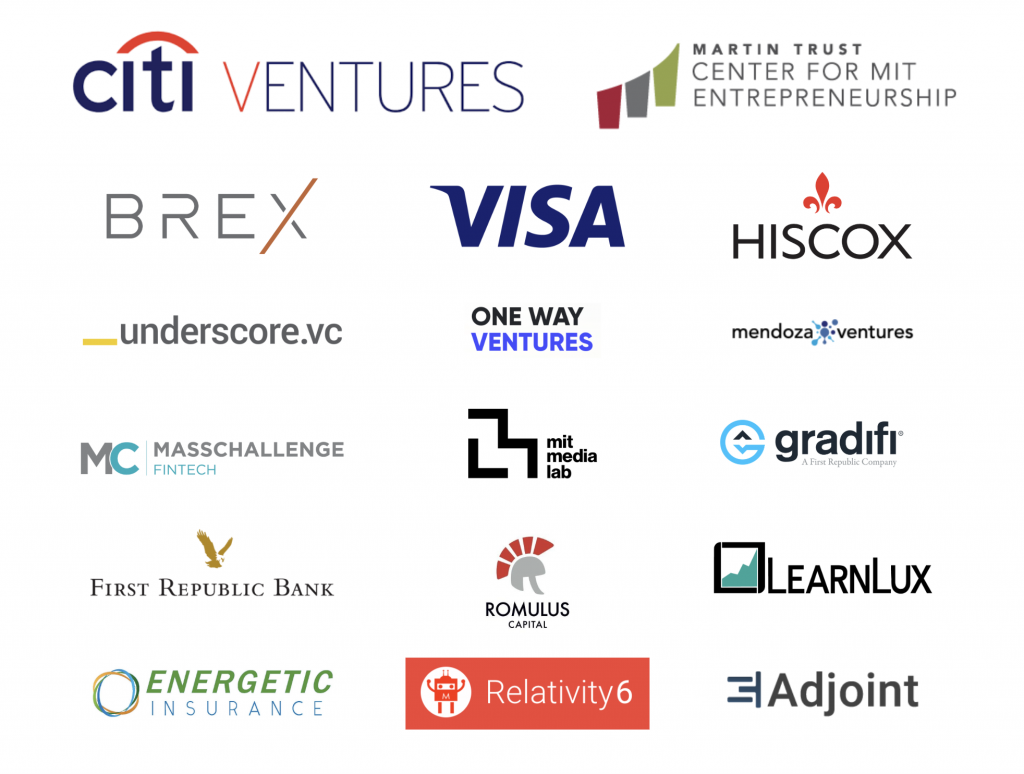 FinTech & Employee Benefits:

David Chang (CEO, Gradifi)
Rebecca Liebman (CEO, LearnLux)

InsurTech:

Josh Nevin (COO, Hiscox)
Nick Meyer (CPO, Relativity 6)
Jeff McAulay (Co-Founder, Energetic Insurance)
Quentin Coolen (CEO, Waffle Labs)

VC Funding:

Citi Ventures
Lex Zhao (Senior Associate, Oneway VC)
Lily Lyman (Principal, Underscore VC)
Pong Choa (Mendoza Ventures)

FinTech in Emerging Markets

Meghab McCormick (Oze)
André Bernardes (Zippi)

AI & BlockChain & Crypto

Robert L. Hughes (AI Banker, First Republic)
John Clippinger (MIT Media Lab)
Katherine Hochrein (Marketing & Partnerships, Adjoint)
Schedule
Saturday, February 23rd
08:00 AM – 9:00 AM Checkin & Breakfast
09:30 AM – 10:00 AM Opening Ceremony
10:00 AM Hacking Begins!
10:00 AM – 10:30 AM Team Formation (optional)
11:00 AM – 12:00 PM Panel: Entrepreneurship Fundamentals
12:00 PM – 01:00 PM Lunch
01:oo PM – 1:45 PM Panel: FinTech & Employee Benefits
02:oo PM – 2:45 PM Panel: InsurTech
03:00 PM – 3:45 PM Panel: AI & Blockchain & Crypto
04:00 PM – 4:45 PM Panel: Accelerators
05:00 PM – 5:45 PM Panel: VC Funding
06:00 PM – 07:00 PM Dinner
07:00 PM – 12:00 AM Hacking
Sunday, February 24th
07:00 AM – 09:00 AM Breakfast
09:00 AM – 09:45 AM Panel: FinTech – Social & EM
10:00 AM – 10:30 AM Speech: Perfect Pitch
11:00 AM – Hacking Ends!
11:00 AM – 11:30 AM Networking
11:30 AM – 11:45 AM Transition
11:45 AM – 12:30 PM Finalist Presentations
12:30 PM – 12:45 PM Closing Ceremony
Prizes
Come and compete for the $5,000 Grand Prize!
Grand Prize: $5,000
2nd Place: 75″ Samsung 4K TV
3rd Place: iPad Pro 64GB with Wi-Fi
4th Place: 4 Red Sox Tickets
5th Place: Bose SoundLink Portable Bluetooth Speaker
Runner Up Prizes: 10x $100 Amazon Gift Cards
Honorable Mention: Tickets to the MIT FinTech Conference
+ Swag!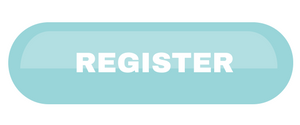 SPONSORS
Questions? Please email fintechchallenge@mit.edu