MIT Innovators: F. Javier Roca Artola & Silvia Berciano [Ethos Genomics]

January 31, 2018
MIT's Storyteller in Residence at the Martin Trust Center for Entrepreneurship, Dom Smith chats to MIT Fuse Innovators F. Javier Roca Artola & Silvia Berciano (of Ethos Genomics) about their idea, and the respective journey they have been through as entrepreneurs.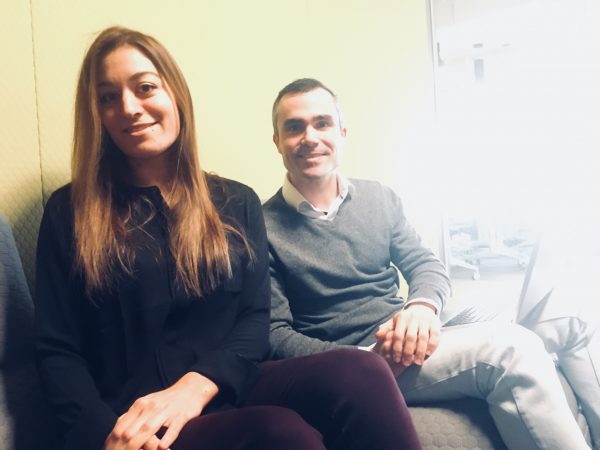 Can you introduce yourselves, and tell me a little bit about what you do here at the Entrepreneurship Center at MIT? 
S] My name is Sylvia Berciano, and I am from Spain. I'm currently studying my PhD in Biochemical and Molecular Nutrition [at the Friedman School Of Nutrition Science and Policy] at Tufts University. I am participating in the MIT Fuse Program to try and accelerate our first venture, which involves Genomics.
J] My name is Javier, and I am from Barcelona [in Spain]. I am studying my MBA at MIT Sloan. The Fuse program, for me has been a very good opportunity to collaborate, and launch this idea, and hopefully I will end up continuing to work on it next summer, when I graduate.
Can you tell me a little bit about your idea, and how it first came to you?  
S] I have been a researcher within the personalised nutrition field for the past five years, and since the beginning I have been working on products that combine genetics, and epigenetics, and also metabolomics, as well as microbiota and metagenomics.
We first realised that the tools we were using in research to try and understand what causes disease, and what factors our lifestyle plays when it comes to the risk of disease could also be applied to help people have better prevention diagnostics and treatments in real-life. There are a few companies out there already selling genetic tests, but these tests are very limited, looking at just, three-to-ten genetic variants, so they couldn't really give you a clear picture about what your genetics said about you. This is why we want to bring a more comprehensive approach to inform people about what their data means, and how it can then be used to improve their lives.
What have been some of the challenges that you have faced when putting this idea in motion? 
S] The first challenge for me, as a person without any formal background in management or entrepreneurship; as a scientist, we like to see solutions and be very clear, but then communicating the value of this product to the general public has not been so easy. Being in this situation, where we have a technology that we want to apply; it's not that we are trying to find a solution for the customer who is in pain, but rather, that we already have a solution that we want to use to improve people's lives. Then, we have to identify what the main customer pains that we want to target are, in order for us to find our target market, and that was perhaps our first challenge.
J] Our challenge has been mostly, finding a good market strategy. and being here at MIT Fuse, we have been given a lot of tools, as well as inspiration and motivation from our mentors who have been constructive and helped us go through our market research in a constructive way, so that we can go through the right target audience for our initial steps.
S] We have initially gone for problems that effect a lot of people, like obesity, as well as cardiovascular disease, and type 2 Diabetes. Here, with the help of our mentors, we have realised that these were the 'low-hanging fruits' that we could use to get more traction as we start. But, perhaps we can look at diseases that are not as easily diagnosed using a standard lab testing by physicians could be a more efficient route of entry for us, as a way of providing improved diagnostics; or a way for people to understand why they are feeling tired all the time, or why they have insomnia. These are things that can be better understood using our technologies.
Can you tell me about your entrepreneurial journey, did you always want to be an entrepreneur? 
S] I did not think about being an entrepreneur as a little girl, but I definitely think that I have the entrepreneurship gene, shall we say! Even when I was around seven, or eight-years-old, I used to steal my mother's lipstick and paint the girl's lips in my class for 100 pesetas [or one Euro]. Definitely, I think that when I see a problem within the world, I do start to think about solutions, and how to implement them. I am of course, also very passionate as a scientist about improving people's lives.
What advice would you give to anybody when it comes to building an idea, and finding motivation? 
J] I think it's very important to surround yourself with people who are creative, and have that entrepreneurial drive. The motivation that you can have is very powerful, and you will keep learning more and more every day, and getting more ideas all the time. In my background, I have always been in an environment where entrepreneurship has been rewarded, and that has always motivated me to find a way [to develop ideas]. Regardless of where you are, if you can find these types of [motivational] people, then you can create a great environment together, and take your ideas into reality.
S] I agree. Surrounding yourself with a positive environment is very important, but I also believe that passion comes from within. The number one thing for me, is to believe in yourself, and to know what you love to do. If you are passionate about something, even if it's a lot of hard work, then you are going to get through it; you will rise when you fall, and keep going until you succeed.
Interview: Dom Smith, January 2018