The MIT Online Makerspace is a virtual gathering place where builders can share projects, recruit a team, and acquire new skills. A collaboration between Protoworks and Project Manus, we host workshops on industry-standard tools and offer project guidance.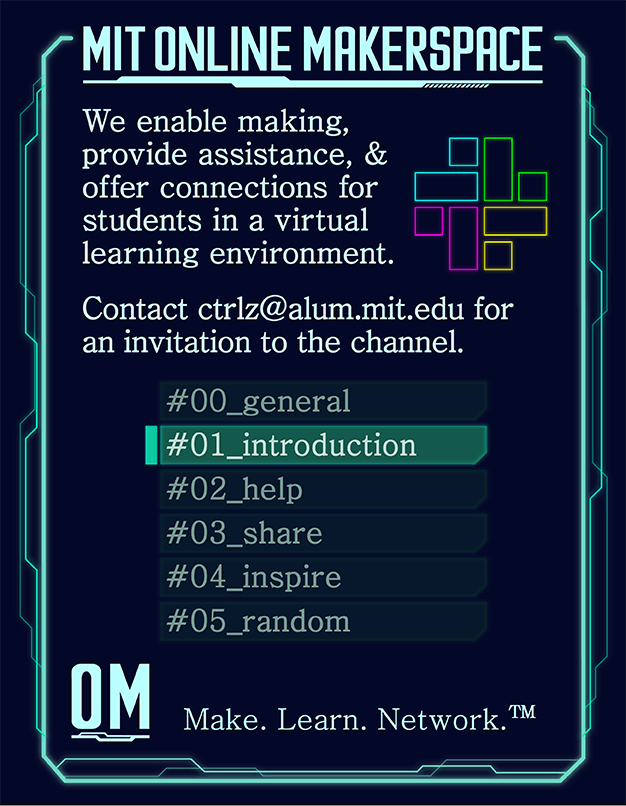 Resources
Remote Making Wiki

Health and safety for remote makers
MIT 3D printing service

Project Manus and Copytech's 3D printing service (must be on-campus to retrieve part)
Project Manus Resources

Guides and projects coming soon.
Get library books delivered

The MIT Libraries will now ship physical copies of books and other media to off-campus, US/Canadian addresses. Includes materials from other universities' libraries.
Additional e-books and films

Expanded and Free Resources During COVID-19 Closure: materials available through MIT-provided third party subscriptions.
Request a free *.mit.edu website

Hosted by Drupal and provided by IS&T, perfect for a first portfolio. This site will exist as long as your Kerberos is active. Click here to learn more about the Drupal site deactivation process.
Past workshop recordings

We record and upload all workshops we hold.
Workshops & Events
Member Projects