Our mission is to become the most helpful, accessible and inclusive makerspace at MIT. As an online community with members spread across the world, we are accessible 24/7 to answer questions, offer project guidance, and connect you with the right people.  A collaboration between ProtoWorkshop and Project Manus, we are open to the greater MIT community from all departments and class years, including alumni and faculty.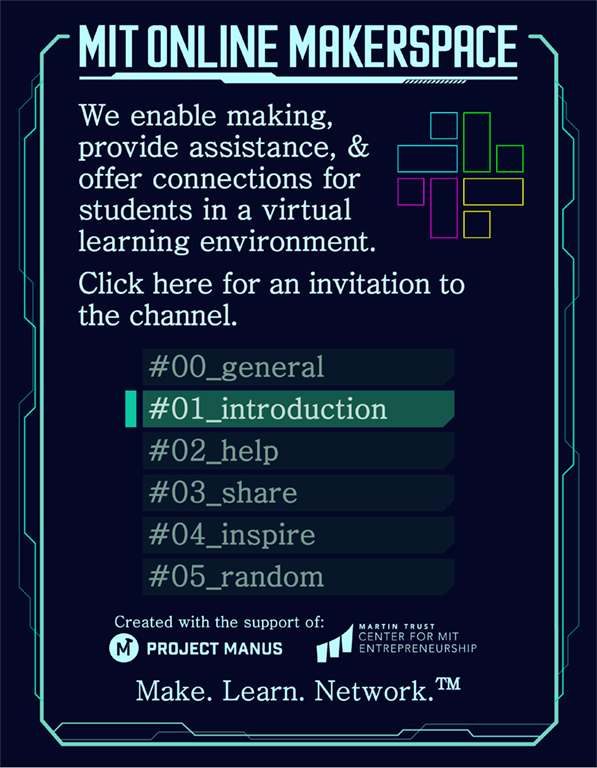 Or click here to join the Slack channel!
If the above link does not work, please contact ctrlz@mit.edu with your kerberos for a direct invite.
1-on-1 Maker Mentoring Sessions
Making is always hard and doing this from home can be even harder. We are offering 1-on-1 online mentoring sessions to help you advance your maker project/startup idea/research. Fill out this form and let us know how we can help. The sessions are free, available immediately, and available to any MIT students (undergrad, grad, phD) from any department (our mentors are alums with industry experience and we have helped 50+ students so far).
Resources
Remote Making Wiki

Health and safety for remote makers
IS&T Loaner Equipment

Request equipment such as a wifi-hotspot, a laptop, and a graphics tablet for remote learning
Options for internet access while living off-campus

Charter Spectrum, Xfinity, and other ISPs are providing hotspots and internet service for students and others in need
MIT 3D printing service

Project Manus and Copytech's 3D printing service (must be on-campus to retrieve part, or have an on-campus comrade retrieve and implement a no-contact exchange)
Project Manus Resources

Guides and projects coming soon.
Get library books delivered

The MIT Libraries will now ship physical copies of books and other media to off-campus, US/Canadian addresses. Includes materials from other universities' libraries.
Additional e-books and films

Expanded and Free Resources During COVID-19 Closure: materials available through MIT-provided third party subscriptions.
Request a free *.mit.edu website

Hosted by Drupal and provided by IS&T, perfect for a first portfolio. This site will exist as long as your Kerberos is active. Click here to learn more about the Drupal site deactivation process.
Past workshop recordings

We record and upload all workshops we hold.
Member Projects