Author: Martin Trust Center
by Kara Baskin
One of the Boston area's fastest-growing startups began at the Martin Trust Center for MIT Entrepreneurship.
In September 2017, Forbes named Elliot Cohen's company, PillPack, one of the 25 "Next Billion-Dollar Startups." In November 2017, Cohen was included on BostInno's "50 on Fire" list of innovators.
The Somerville, Mass.-based Internet pharmacy streamlines medication management. It ships pills in presorted packages, including dispensers and notes on how each drug should be taken, labeled with times and dates. PillPack's software platform coordinates refills, renewals, and copays; it also allows users to email, text, and call their PillPack pharmacist. It's a relief for people who take many medications and might not be able to travel to a traditional pharmacy.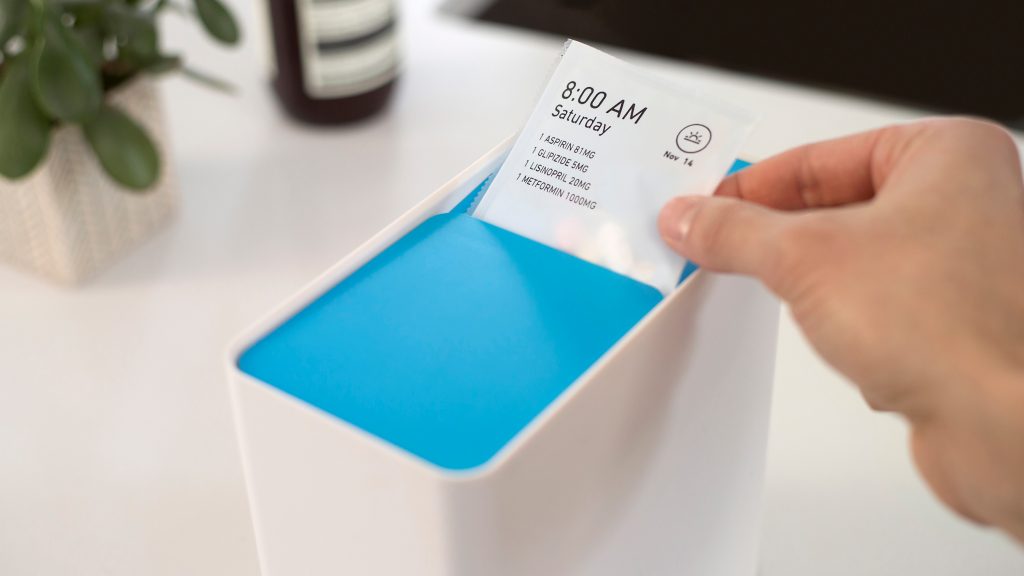 Cohen, MBA '13, vowed to pursue a career in health care while watching his father endure medication difficulties. After undergoing quadruple-bypass surgery when Cohen was in high school, he struggled to keep track of medications.
"When we were in the early days of conceptualizing PillPack, I was home in California when I interrupted my father sorting his pills into a traditional pill box — the 'day-of-the-week' kind. When my startled father turned around to see who had opened the door, he knocked his pillbox, scattering medications everywhere. Seeing his frustration in that moment made me believe that there had to be a better way to manage medications. That was really the moment I committed to making PillPack a reality," Cohen says.
This desire led him to join the Trust Center in 2010 to run the entrepreneur-in-residence program. Working with Zen Chu, a senior lecturer in health-care innovation at MIT Sloan, he helped to create Hacking Medicine, the intensive hackathon at which health entrepreneurs can develop revolutionary business ideas. Inspired, Cohen enrolled as a business school student.
"After working with Zen and Bill Aulet, and being exposed to the programs at MIT Sloan, I decided that I wanted to fully immerse myself in the MBA program as a student. My desire to pursue an MBA was specific to Sloan and the experiences I'd had working with the students and faculty," Cohen says.
He met his PillPack co-founder, pharmacist TJ Parker, while working on MIT's $100K Entrepreneurship competition, supported by the Trust Center. In 2012, Cohen and Parker won the MIT Hacking Medicine hackathon. From there, the business began to take shape.
Cohen credits courses at the Trust Center with planting the seeds of his success.
"At the Trust Center, "Innovation Teams" taught by Fiona Murray and "Entrepreneurial Strategy" taught by Scott Stern were two courses that really stood out. Each class focused on a different set of tools and methods. These tools were useful in evaluating the viability of how to reach a customer and whether the service or product can be delivered sustainably. However, the main takeaway in each of these classes was the same: focus on creating value for your customer, and the rest generally works out," Cohen says.
And today, Cohen uses Aulet's style of management when overseeing his own employees.
"Bill Aulet created a very open and free environment. He asks the right key questions to force you to focus on the main topic in front of you, whether that was helping build the EIR program or getting Hacking Medicine off of the ground. He does not tell you how to solve the problem or what exactly to work on. In this way, he embodies the entrepreneurial spirit and creates a culture of entrepreneurship around the Trust Center. This is how I approach leadership today: I try to ask the right key questions so that my team will question their assumptions and consider different approaches, but ultimately I encourage ownership — and I trust them to decide on the best path to get something done," Cohen says.
With 500 employees, delivery in 49 states, and a revenue of more than $100 million in 2017, it's working.