MIT Engineering Entrepreneurship Certificate
Explore entrepreneurship and entrepreneurial leadership through courses, IAP programs, internships, and accelerators during your time at MIT!
The MIT School of Engineering, the MIT Sloan School of Management, and the Martin Trust Center for MIT Entrepreneurship have partnered to launch the Engineering Entrepreneurship Certificate for undergraduates. Students in the following departments are eligible to participate:
Aeronautics and Astronautics
Biological Engineering
Chemical Engineering
Civil and Environmental Engineering
Electrical Engineering and Computer Science
Materials Science and Engineering
Mechanical Engineering
Nuclear Science and Engineering
The Certificate provides engineering students an opportunity to explore entrepreneurship and leadership with limited modifications to their existing course of study. Through a combination of additive coursework, co-curricular activities over IAP and one summer term, and immersion into MIT's vast entrepreneurship ecosystem, students gain diverse skills that will make them better entrepreneurial leaders.
In particular, students explore the theory, practice, and tactics of entrepreneurship, which, when combined with their primary course of study, will enable them to more effectively:
Launch and lead new entrepreneurial organizations,
Develop new teams and/or ventures within larger organizations, and/or
Commercialize technological innovations and research.
For example, students may leverage their experience in pursuing the certificate to become a startup founder, CTO of a business or political entity, or a professor leading a research group.
Certificate applications for the '23-'24 school year
closed on Friday September 29th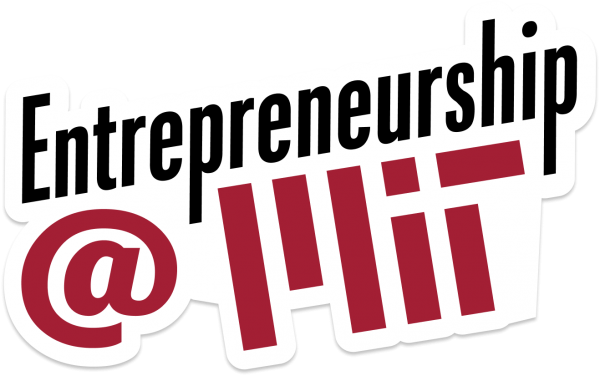 Watch our Certificate Info Session
for more information
Certificate Requirements
Students must participate in StartMIT over IAP, complete the course requirements outlined below, and complete either a SuperUROP(e) research project, an entrepreneurship internship, or one or more accelerator programs. Students are encouraged to engage in ecosystem activities such as events, competitions, and clubs. To earn an Engineering Entrepreneurship Certificate, students must complete the three components:
Part 1: StartMIT
6.9300 / 6.9302 / 15.352[J]
StartMIT is a 2-½ week course held every January during the Independent Activities Period (IAP) for students who are interested in exploring entrepreneurship while here in school and are looking for an entry point to the ecosystem. The course is referred to as "your on-ramp to the entrepreneurial world at MIT" and it fosters connections between peers across campus, entrepreneurship guest speakers, independent exercises, group workshops, and one-on-one office hours.
Learn more at startmit.mit.edu
Part 2: Courses (18 Units)
Students are required to take 18 units of courses across entrepreneurship and leadership. 12 units must be in entrepreneurship and 6 units must be in leadership. A full list of eligible courses is available here.
Part 3: Application
Students must apply their entrepreneurship and leadership learnings through a co- or extra-curricular program. Students must choose either a SuperUROP with an entrepreneurship focus, and entrepreneurship internship, or participate in a startup accelerator program. Options are available over IAP and during the summer.
SuperUROPe (6.UAR) Students may optionally participate in an entrepreneurship-focused SuperUROP research project. Students will explore the commercialization of the research conducted through the SuperUROP and work in collaboration with an Entrepreneur in Residence at the Martin Trust Center for MIT Entrepreneurship. Students participating in a SuperUROPe project will be allowed to participate in StartMIT and MIT fuse.
Entrepreneurship Internships (Choose One)
Other Entrepreneurial Internship (Approval Required)
Accelerator Programs (Choose One)

MIT fuse (IAP) MIT Fuse is a 2-1/2 week hands-on startup experience designed for students and small teams looking to work, think, and talk like an entrepreneur and start the path towards becoming a company. The program provides an opportunity for teams of students to determine whether they are working on the right idea with the right team. It also helps students understand whether pursuing a full-time entrepreneurial career is right for them.
MIT Sandbox (>$5,000 in Funding) MIT Sandbox provides seed funding, mentorship, and tailored entrepreneurship education that empowers student innovators to explore ideas, take risks, and prepare to launch. The goal of the program is to enable any MIT student — inspired to solve a problem with an innovative solution — to learn and experience entrepreneurship.
MIT Sandbox DHIVE MIT Dive into Healthcare Innovation and Venture Exploration Program (DHIVE) is a sponsored internship opportunity for undergraduate and graduate students to gain knowledge and insight into one of the healthcare issues as they explore entrepreneurial solutions to associated challenges and needs. Students get an internship, learn from experts, participate in brainstorming and ideation activities, and form teams to evaluate market opportunities.
MIT designX MITdesignX is an academic program in the MIT School of Architecture and Planning (SA+P) dedicated to design innovation and entrepreneurship. We empower students, faculty and researchers to build new business ventures and forward-thinking solutions designed to address critical challenges facing the future of cities and the human environment.
MIT delta v (Summer) MIT delta v is a three-month summer entrepreneurship acceleration program (June to September) hosted at the Martin Trust Center for MIT Entrepreneurship. Over this period teams will define and refine their target market, conduct primary market research, and build knowledge about their customers and users. They will run experiments to validate or invalidate their key hypotheses with potential customers. They will be building and nurturing their founding team. They will make progress on the mechanics of starting their venture. Many School of Engineering-founded startups have successfully participated in the delta v program in the past. Entry to the delta v program is subject to a competitive application process given limited capacity. More information is available at deltav.mit.edu.
START.nano START.nano provides MIT startups with early access to MIT.nano's state-of-the-art laboratories can minimize the cost of launching a nascent idea, helping increase the survival rate of promising companies and potentially shortening the time it takes for their innovations to reach the market. Participating startups will have access to tools and other advantages that can help them create more well-developed prototypes, obtain validated data, set them on the path to success, and position them for the next stage of growth.
Other We envision the number of listed opportunities growing over time. Additionally, students may be able to meet the requirements with other accelerator opportunities both at MIT and in the broader Cambridge ecosystem. Participation in programs such as MassChallenge, Greentown Labs, Techstars, Prod, and others will be considered and reviewed by EECS and the Martin Trust Center.
Requirements for the certificate program can, pending review and approval by the Martin Trust Center and School of Engineering, be waived should a student participate in a comparable activity deemed to have sufficient rigor.
Ecosystem Engagement
Outside of the requirements of this program, students may find many other paths to explore leadership and entrepreneurship.  A partial list follows:
Sandbox

– Students may apply and participate in the Sandbox program.

Events

– Students will frequently wish to attend several of the following events:

MIT delta v Demo Day

Pitch2Match

$100K Competition

Climate and Energy Prize

HackMIT

StartLabs Idea Factory

Hacking Medicine

Speaker Series

Clubs

– Students may consider joining either StartLabs, the Sloan Business Club, or the MIT Entrepreneurship Club.
Active participation on the Martin Trust Center Undergraduate Board of Advisors is also a valuable additional activity.
Additional Support & Personalized Learning Paths
The certificate requirements can be met in a number of different ways which allows students to pursue the path that best prepares them to embrace entrepreneurship in their personal career paths. With such a broad entrepreneurship ecosystem and a variety of courses and resources, crafting their own learning path can be difficult for students. For that reason, we recommend students pursuing the certificate program leverage two advising resources to create their personal learning path:
Orbit – Students can get personalized recommendations of courses, coaching, grants, clubs, people, and more based on their major, entrepreneurship experience, and interest by using Orbit's automated recommendation engine. Students can leverage Orbit as a resource 24/7 by visiting: orbit.mit.edu
EIRs – Entrepreneurs in Residence at the Trust Center are trained to support students as they navigate MIT's vast entrepreneurship ecosystem. Students can request a one-on-one advising meeting with an EIR to determine which courses and resources that meet the certificate requirements will be the best fit. To book a meeting, students can simply visit orbit.mit.edu.
Application
The MIT Engineering Entrepreneurship Certificate is currently open to all undergraduate students in the School of Engineering. During the pilot there are limited spots available and an application is required.
Students are eligible to apply for the certificate program in the period beginning when they declare their major at the end of their first year until the beginning of their junior year. There is no extra cost to students for participation in this certificate program.
The certificate is optional and not a requirement for graduation at any level of study. It is a co-curricular offering, however, some of the classes and workshops associated with it may carry some academic credit that may be counted towards a degree program or any other relevant academic requirements.
Our Initial Cohort
Launched in the fall semester of the 2022-23 school year, the program accepted 29 diverse and highly qualified undergraduate Engineering students.
Each student in the program has been matched with a program advisor, many of whom are Entrepreneurs in Residence at the Trust Center.
Students developed their own personalized plan for how to pursue and complete the requirements of the certificate through academic courses and co-curricular programs during their time at MIT before graduation.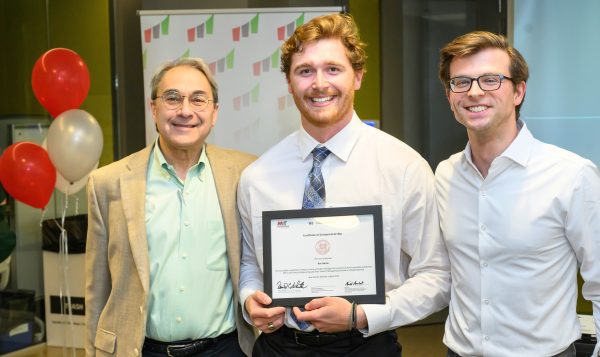 Our first certificate recipient: Ben Burke, class of 2023
Ben Burke graduated with a degree in Chemical-Biological Engineering in June of 2023. Before the certificate program, Ben had worked with a faculty-led startup, Pharmor (now Seia Bio), through the Trust Center's delta v accelerator program. Through the certificate he has balanced the application of entrepreneurship with academic coursework:
Fundamentals and entrepreneurship community: StartMIT (IAP 2023)

Entrepreneurship course work: 15.373 Venture Engineering (Spring 2023)

Leadership skills development in 5.961[J] Leadership and Professional Strategies & Skills Training (Spring 2023)

Advanced foundations in practice: delta v with Professor Ariel Furst (Summer 2022)
"I am so glad I was able to pursue my interests in entrepreneurship without detracting from my core engineering studies and varsity athletics involvement. It was honestly an accident to get connected with the Trust Center; my UROP landed me in their delta v accelerator. Yet it has given me a new perspective on what I've learned at MIT, and prepared me to pursue a more customized path for my personal development.

I will be better able to control my own destiny and have real impact sooner, more directly, and at a level that would not have been possible without this entrepreneurial experience. I can't recommend the Entrepreneurship Certificate highly enough." -Ben Burke