Network, connect, and build your team before MIT delta v and other summer programs.
Founders: find co-founders and talented team members
Joiners: find a startup to share your talents and skills
Or simply discover like-minded individuals who share your passions for possible future opportunities!
Pitch2Match is not just for MIT.
Entrepreneurial students from schools around the greater Boston area are welcome to attend and pitch as well.
Due to time constraints, we limit the number of presenters, so sign up as soon as registration opens and reserve your slot. There is no limit on attendees who are there to listen and learn.
Questions? Contact pitch2match@mit.edu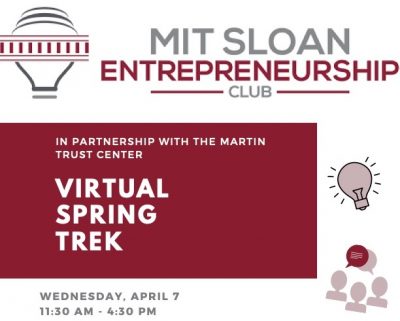 We hold campus-wide Pitch2Match programs at least 2x per semester, once at the start in September and February, and a second event about six weeks later. In addition, we partner with different organizations and student groups to host Pitch2Match events as part of their programming.
Our next P2M will be held on Wednesday, April 7, 2021 from 3:00 – 4:30pm Eastern as part of the MIT Sloan Entrepreneurship Club's Virtual Spring Trek.