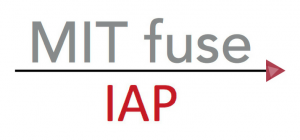 MIT fuse is the Trust Center's entrepreneurial program taking place every January during Independent Activities Period (IAP).
The 2020 fuse program will take place January 7-23, 2020.
Overview
MIT fuse is a 2-1/2 week hands-on startup experience designed for students and small teams looking to work, think, and talk like an entrepreneur and start the path towards becoming a company. The program is:
customized to your needs
workshops NOT lectures
hard work NOT homework
a chance to see whether or not you like the startup and entrepreneurship lifestyle
a place to learn tactics that are useful today and valuable beyond startup life
During IAP, the MIT fuse cohort of teams all but takes over the entire Martin Trust Center. You'll have significant time devoted to mentorship from our Entrepreneurs in Residence and learn from founders who are six to eighteen months "ahead" of you. MIT fuse will focus on:
storytelling and pitching
primary market research (PMR)
digital marketing
prototyping without coding
UX and testing
PLUS learning how to work with your co-founders
Who are we looking for to join us at MIT fuse?
MIT founders and teams with new ideas in any industry … Let's do this!
Experienced teams who want sophisticated mentorship
Students who have taken classes such as 15.390, 6.399, E-ventures, etc. (NOT a pre-requisite, just an example)
Committed founders that are current MIT students

Teams may have non-MIT founders, but must have at least one MIT student as a founder

Solo founders may apply but have a decreased likelihood of acceptance into MIT fuse
Have additional questions? Email mitfuse@mit.edu