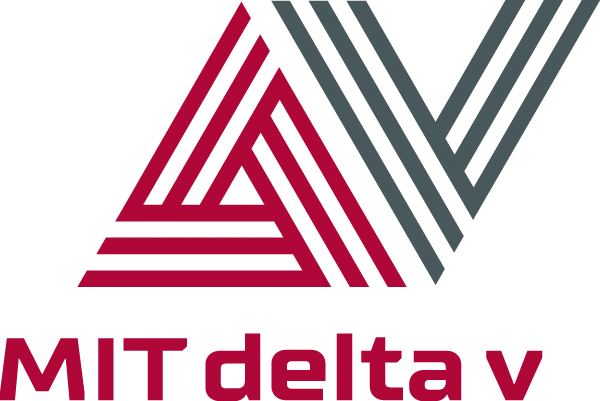 The MIT delta v accelerator is the capstone entrepreneurial experience for students at MIT.
How it works
From June to early September, teams have dedicated space in the co-working environment of the Trust Center on the MIT campus, or the NYC Startup Studio in Manhattan. They will work on their ventures full-time for the whole summer.
MIT delta v 2021 will be held as a virtual program this year so teams will have the opportunity to work remotely at a location of their choosing, but should know that the program and all activities will be scheduled off standard Eastern time zone hours.
Teams will define and refine their target market, conduct primary market research and build knowledge about their customers and users. They will run experiments to validate or invalidate their key hypotheses with potential customers. They will be building and nurturing their founding team. They will make progress on the mechanics of starting their venture.
Important Dates
Applications open: Monday March 1
Applications close: Sunday March 28 at 8:00pm Eastern
Interviews: early April

interview requests have no bearing on your acceptance status as we do not interview all applicants

Teams notified: mid April, absolutely no later than April 15
First Day: Wednesday June 9
Demo Day: Friday September 10
The Teams
The infographic below represents the student entrepreneurs and teams that took part in the 2020 (virtual) MIT delta v programs in Cambridge and New York City. MIT delta v is MIT's student venture accelerator, providing a capstone educational opportunity for MIT student entrepreneurs that prepares them to hit escape velocity and launch into the real world. (click to enlarge)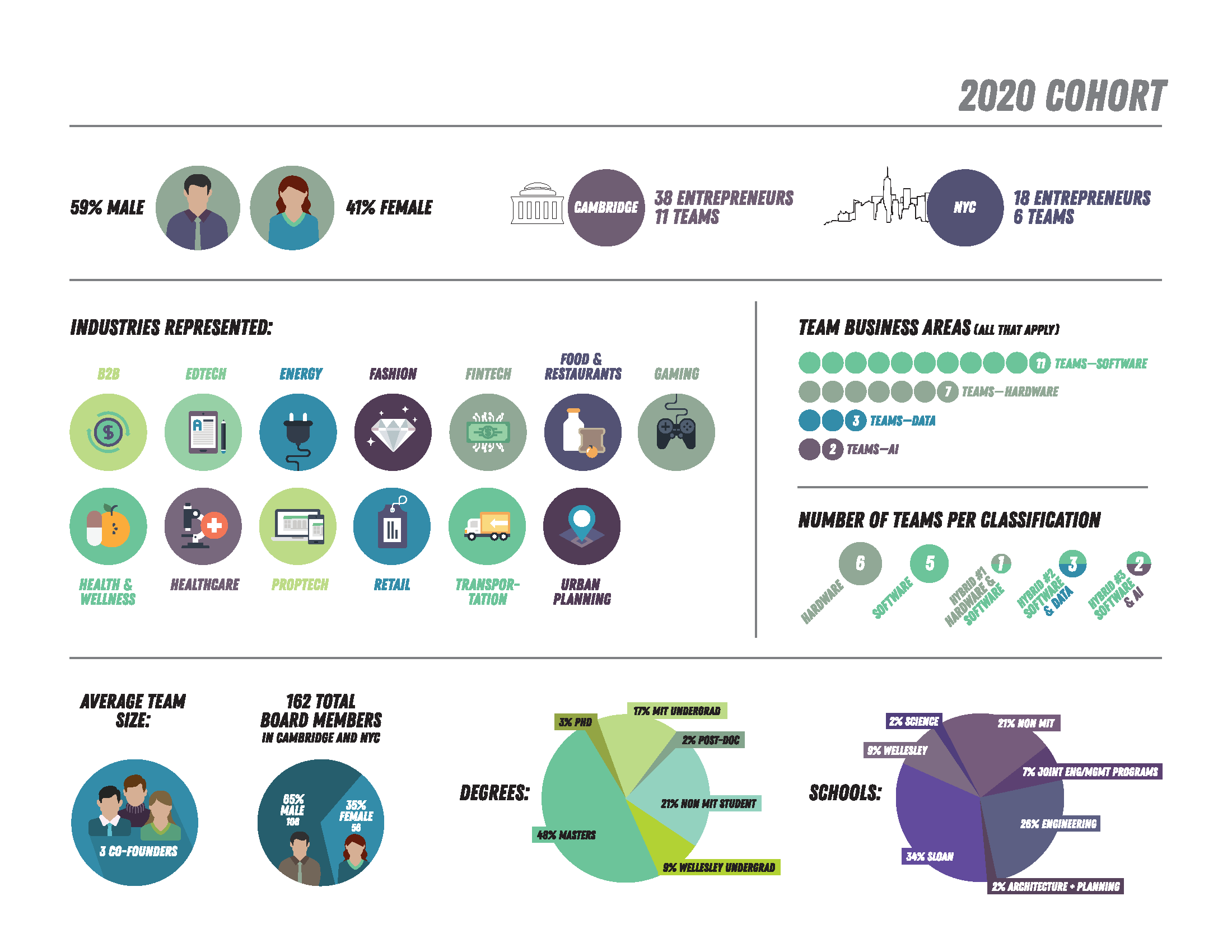 Demo Day showcases our passionate and talented founders, featuring pitches of their innovative, world-changing companies solving the toughest problems across many industries. Following the presentations, attendees will have the chance to visit each team's Expo Booth to learn even more about our startups' products and services.
Demo Day is scheduled for Friday, September 10, 2021 (time TBA) with the hope that it will be held in person at MIT with a global online audience.
Demo Day
MIT delta v will culminate in Demo Day events, typically held at the beginning of the school year in early September at MIT followed by Demo Day presentations in New York City and San Francisco/Silicon Valley. Students will have the opportunity to pitch their startups to investors and members of the press to kick-start their ventures and reach escape velocity.
A single Demo Day is scheduled for Friday, September 10, 2021 (time TBA) with the hope that it will be held in person at MIT with a global online audience. To be added to our invitation list, sign up for our newsletter at the bottom of this page.
Money
The MIT delta v organizing team, in conjunction with the advisory board assigned to your team, will determine the amount of milestone money, if any, to be awarded each month. You have the ability to receive additional funding up to $20,000 in milestone money during the duration of MIT delta v.
Only current MIT students, as defined in the "Eligibility" section, are eligible to receive the $2,000/month fellowships. Only students listed in the submitted application will be eligible as well.
The fellowships will only be awarded during June, July, and August. The MIT delta v organizing team, in conjunction with the advisory board, will determine which team members will receive the fellowships. In general, a team member needs to be founder-level and work full-time at the MIT delta v site to receive money for a particular month.
Remember that all payments are considered income and are therefore taxable. Non-U.S. citizens are typically subject to a 14% tax withholding from any money they receive. We do not provide tax guidance.
Confidentiality
While we will keep all information within MIT delta v judging and organizing teams, we cannot guarantee complete confidentiality of information.
Intellectual Property
MIT delta v focuses on entrepreneurship skills, so we do not anticipate any intellectual property will be created as a direct result of MIT delta v.
Furthermore, MIT does not consider use of office space, libraries, machine shop facilities, and consumer-grade computers as constituting a significant use of MIT resources.
If your company is built around intellectual property developed using significant MIT resources, you should consult MIT's policies for more information. The MIT Technology Licensing Office controls MIT intellectual property and can help you with questions.
The relevant MIT policies are: