Author: Martin Trust Center
by Ben Soltoff
Recently, I've seen a lot of chatter about Iraq in my newsfeed. That's because we've just passed the twentieth anniversary of the US invasion of Iraq. That conflict and the subsequent emergence of the Islamic State have profoundly colored Americans' perception of the country. Many of us see Iraq as a place defined primarily by war. While decades of violence have indeed scarred the country, there's much more to the story than that, and we do a disservice to the place and the people who live there by neglecting the bigger picture. I'm no expert on Iraqi history and culture, but I did have a rare chance to visit Iraq, as a civilian, just a few weeks ago.
To be honest, Iraq was not at the top of my list of countries to visit. In fact, it wasn't on the list at all. I didn't think it was possible due to security concerns. But in fall 2022, I was invited to give a webinar on climate tech as part of the Visiting American Professionals program sponsored by the US Embassy in Baghdad. As we were planning the webinar, the organizers invited me to visit in person. They told me they'd take care of all the security and other logistics, as well as the costs. It was clearly a once-in-a-lifetime opportunity, so I said yes.
At the end of January, I gave a series of seven talks on climate tech entrepreneurship at locations in Baghdad as well as the autonomous region of Kurdistan. I spoke mainly at universities and startup hubs to audiences of students, environmental professionals, and entrepreneurs. Some of my talks were translated into Arabic and Kurdish but most were in English. Many audience members were keen to practice their English skills. I got a lot of insightful questions, and I met some very inspiring people.
CLICK ANY IMAGE TO ENLARGE
I gave a series of seven talks in seven days, mainly at universities and startup hubs in four different cities: Baghdad Business School (1/24), The Station, Baghdad (1/25), The American Corner, Sulaymaniyah (1/26), The Station, Erbil (1/27), UKH Career Development Center (1/28), and The American Corner, Erbil (1/29), and The American Corner, Duho (1/30).
It might come as a surprise to many members of the Martin Trust Center community that Iraq has a burgeoning entrepreneurship scene. Of course, innovation is not a new concept to the country and its people. Ancient cultures in what is now Iraq invented both agriculture and written language. Additionally, Iraqis have been building new enterprises for ages. The citadel in the Kurdish capital Erbil has been continuously inhabited for over 6000 years. The homes and businesses in that location have been built over so many times that today they stand on a hill over 100 feet high. The Erbil Citadel is now a UNESCO World Heritage Site, but it's still surrounded by an active and thriving marketplace.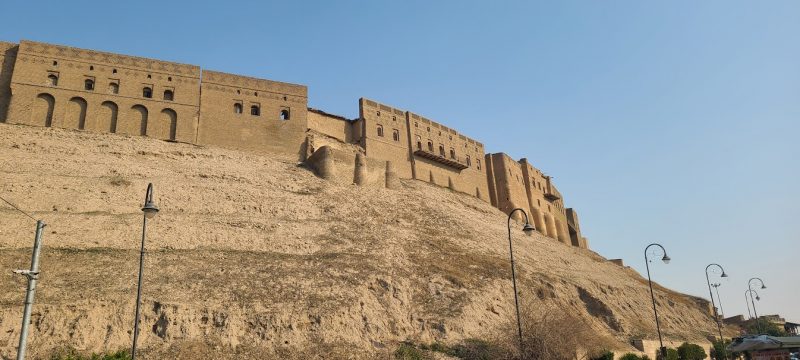 The modern infrastructure for entrepreneurship has developed more recently. I gave talks at two outposts of the co-working space called The Station. In Erbil, The Station was home to a busy makerspace, and it had just hosted a Demo Day a couple months before. I also visited The Station in Baghdad, and it was surreal to travel in an armored vehicle to visit a co-working space that would not be out of place in Kendall Square. Honestly, the vibe was not all that different from the Trust Center.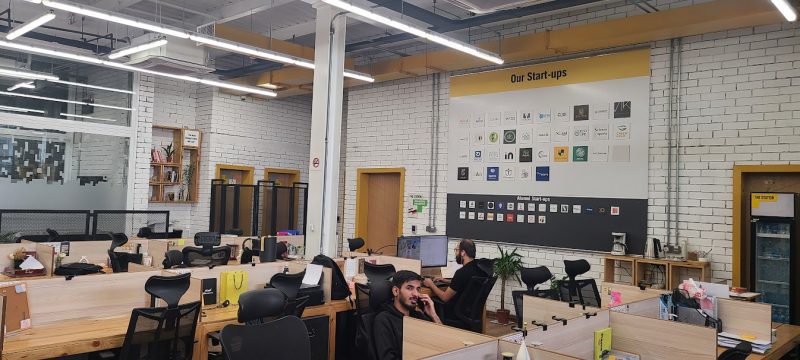 I don't want to understate the challenges of entrepreneurship in Iraq. The entrepreneurs I met face many barriers that American entrepreneurs don't have to worry about. For instance, many major payment services providers aren't available in Iraq, including PayPal, Stripe, Google Pay, and Apple Pay. That makes it extremely difficult for Iraqi entrepreneurs to do business internationally. Additionally, startup capital is very hard to obtain. There are a few venture capital firms, like Euphrates Ventures, but many of the entrepreneurs I met were relying on resources from foreign development agencies.
Despite these barriers, Iraqis continue to pursue entrepreneurship. Part of the reason is that many see it as one of their only options. Iraq has a youth unemployment rate of 35%, and the private sector is underdeveloped. However, the government has made a big push to encourage young people to complete college degrees. Faced with a lack of jobs, many of these young, educated Iraqis are creating their own jobs as entrepreneurs.
Iraqis of all stripes must also contend with another looming challenge: the changing climate. A UN report deemed Iraq to be the world's fifth most vulnerable country to climate change. Some of the world's hottest temperatures have hit southern Iraq, and extreme heat and drought have exacerbated conditions of water scarcity, which is a major issue across the country. These changes in the climate can have profound impacts on human life, as well as agriculture and other forms of commerce.
When I learned about the combined challenges of climate change and youth unemployment, I understood why so many young people were eager to learn about climate entrepreneurship. Iraq now faces yet another existential threat. The nation of Iraq is an entity that has only existed for about a century, but cities like Baghdad and Erbil have been centers of human civilization for millennia. If they're able to thwart the most severe impacts of climate change, aided by the next generation of young climate innovators, they'll likely remain a thriving hub for thousands of years more.