Room Reservation System
Our room reservation system is for MIT students and MIT student clubs working on things related to entrepreneurship, as well as for Martin Trust Center faculty and staff. Other MIT-affiliated individuals should email trustcenter@mit.edu for assistance.

Before Booking a Room:
Will your meeting occur before 8:30am or after 5:30pm, or at any time on a weekend or Institute holiday? Our doors are locked during those times, so if you will need the door unlocked, please request access at least one day in advance.
Will you have a phone or video call? Please add 15 minutes before and after your reservation for setup and spillover time.
Will you be hosting an event? Please add sufficient setup and breakdown time to your reservation. We recommend 30 minutes before and after.
Will you be using 175 and 175A (Testa South and North) as one contiguous room?
Then please…

Add 30 minutes to the beginning and to the end of your reservation for setup and breakdown time.
Add the phrase "wall open" to the "Purpose" line of your reservation.
If any part of your reservation takes place after 5pm or before 9am (including setup/breakdown time), or on a weekend or Institute holiday, please email trustcenter@mit.edu so we can ensure the wall between the rooms is opened and closed at the right times.

Will you have food delivered? Please make sure that your reservation includes the person's name that you give to the restaurant, because otherwise, if the delivery driver arrives early (as often happens), we will be unable to determine whether the delivery is meant for an E40-160 meeting.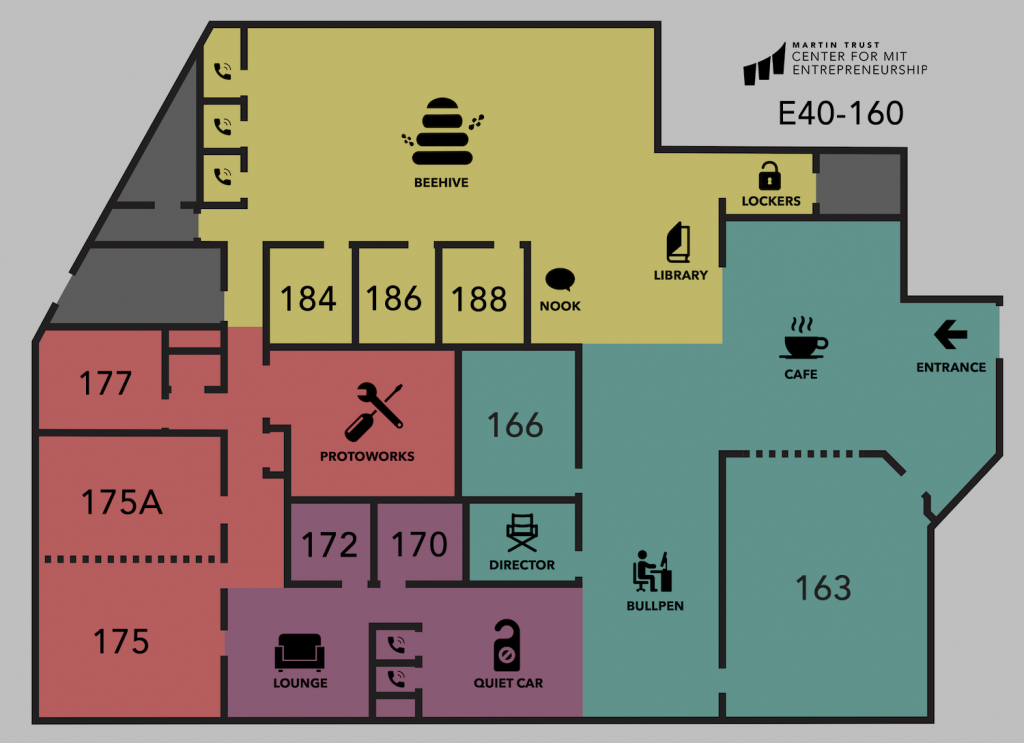 Request 24/7 Access
Current MIT students may request to have ID card access to our space in E40-160 beyond our normal operating hours of 8:30am – 8:00pm Monday through Thursday and 8:30am – 5:30pm on Friday. To request 24/7 access to the Martin Trust Center, please click on the button and complete the form.