This slightly scary piece of encouragement might leave you with a bit of trepidation. But, an alum of MIT's week-long Entrepreneurship Development Program (EDP) vows this program changed her business completely.
So, what is MIT's Entrepreneurship Development Program? Let me offer a peek inside the program from the view of a faculty member and coach. I personally find it fascinating to witness professionals experience their "Aha!" moment during the program; that sudden moment of realization, inspiration, and insight in their entrepreneurial journey.
For the third year in a row I recently assisted in teaching and facilitating MIT's Executive Education program with Trust Center Executive Director Bill Aulet. The group of people who attend EDP are highly motivated, driven, and want to make a positive impact in the world. These individuals are seasoned professionals who are used to delivering results, so we needed to provide the material in a way so that it can be applied to their real world. The MIT style of learning of "mens et manus" (which translates from Latin to "mind and hand") is a good match for the EDP cohorts. MIT provides the theory and reinforces it with the practical.
The global life experiences in the class make for such a vibrant community. They ask questions to deepen their understanding, and by doing so, we become better educators. The 2020 week-long program had 104 participants from 27 countries and six continents. The participants listened to an MIT fire hose of information during the day and apply the lessons in teams during the evening by going through simulations with coaching from experienced entrepreneurs.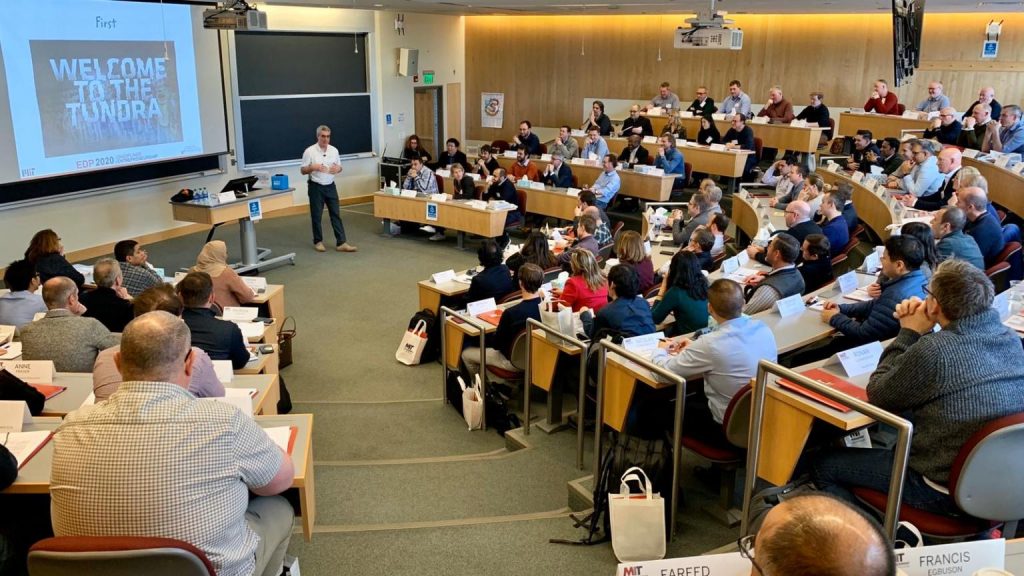 Participants come together on their first day and we put them through an introduction; then they jump right into entrepreneurial speed dating, pitching ideas, and forming teams before they depart for the evening. The balance of the rest of the week consists of the Disciplined Entrepreneurship (DE) framework, coaching, and ecosystem tours. The program is not for the faint of heart. It truly is a constant fire hose of content. EDP is more than an entrepreneurial mindset as these folks are building out ecosystems, starting companies, and came to the Entrepreneurship Development Program specifically to learn Disciplined Entrepreneurship.
These entrepreneurs see the effect they can have in the world through entrepreneurship. After recovery from the week, one participant said, "I am already working on the social enterprise that I have been wanting to build for 10 years, but I didn't know how to make it into a business." I appreciate the opportunity to teach and coach in such a results-based program.
During the school year, 90% of my day-to-day is made up of teaching, leading programs, and supporting current MIT students. About 10% of my day is working in Executive Education and community building. EDP is such an essential part of our ecosystem as it brings frameworks, application, and experience to people from all over the globe who are experienced executives, but are looking to take their entrepreneurial initiatives to the next level.
However, our MIT educators are not the only ones teaching about the entrepreneurial ecosystem. In EDP, we bring entrepreneurs who have launched after participating in our various entrepreneurship programs. Companies like AirWorks, Floating Point Group, CaroCare, and Ministry of Supply. We also introduce non-MIT related support like Greentown Labs and the Cambridge Innovation Center (CIC).
No one program can claim the success of any MIT startup, as it is the collective ecosystem that encourages those at MIT to reach back into the community to help others rise up. Many of the people who come to the Entrepreneurship Development Program are already active in their entrepreneurship ecosystems, bringing the Disciplined Entrepreneurship lessons to others. This is the impact of EDP.  We continue to foster the community.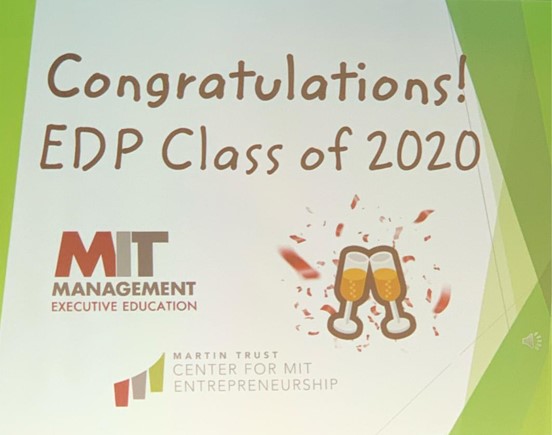 Here is some of the feedback from participants:
Dale Cree, CEO, 3EN Cloud ltd
"At the end of the day, it was absolute proof you need to complete the 24 steps to have any chance at all. Greatest foundation for any business journey. MIT EDP."
Kasper Juul, Director, External Innovation at LEO Science & Tech Hub
"The combination of inspiring lectures and practical exercises, with the support of experienced entrepreneurial mentors, is simply invaluable. This makes for a very intense course with a steep learning curve that will push you to your limit while having lots of fun. Most importantly, EDP makes you feel part of a community that will continue to support you on the entrepreneurial journey."
Mariam Al Eissa, Ph.D., Postdoctoral Research Fellow at MIT
"I'm so grateful to be part of the Entrepreneurship Development Program where I learned innovative ideas can't be delivered without entrepreneurial skills. As a Saudi woman, I'm fortunate to live in a time where women empowered as part of 2030 vision and I'm trying my best to be ready to play an active role in my community at all levels."
Dr. Dani Abu Ghaida, technology leader working with Middle East organizations to create, build, and launch new ventures
"What particularly attracted me [to EDP] is to find answers on what I did wrong in the ventures I have led and that failed prior to EDP. EDP not only answered this question, but gave me the motivation to move ahead and pursue multiple programs at MIT leading to the AEC [Advanced Executive Certificate] qualification I have now. This journey has equipped me with the tools that I need to answer all the management, strategy, innovation, operations, and supply chain challenges I can face as a venture leader, business executive, and a person who wants to change the world."
Mary Rodgers, Innovation Community Manager, PorterShed (past participant)
"Since returning to Galway, MIT EDP has become an integral part of our daily working lives. Managing a co-working Tech Hub, I regularly meet with entrepreneurs at different stages of their life cycle. I used the DE [Disciplined Entrepreneurship] roadmap to refocus the companies, and provide objective, practical advice and actions to progress."
Want to learn more? Visit these websites:
Entrepreneurship Development Program