We chat to Aline Oliveira (CEO) and Fabricio Pezente (Head of Product Development) of Proventus about their goals to support America's farming community with their new start-up venture.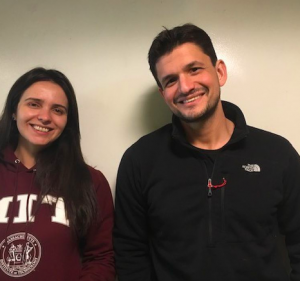 What do you do?
F] My name is Fabricio, and I come from the financial world. Before coming to MIT, I worked for Credit Suisse in Brazil. That's my home country for almost fifteen years, and I had several different roles. I modeled financial products for five years, and then I was moved to the trading desk and was trading assets before I was structuring and distributing credits of Brazilian corporations and financial institutions in general. Here at MIT, I am in the Sloan Fellows program, and doing my MBA. I am mostly focused on the entrepreneurial side, and innovation.
A] My name is Aline, and I am also with Fabricio in the Sloan Fellows Program. Before I joined MIT, I worked all my life in the agriculture and commodities sectors. Most recently, I was head of business development for one of the largest trading houses in Latin America. I was also CEO of a farming company.
Tell us about your ideas?
F] We started working on the program in June 2017. Adine and I had been talking about the issues that our industries have been facing. We started to develop a solution for the problems that we have been seeing, in Bill Aulet's class in New Enterprise – there we started to shape what the company would look like, We decided to create a platform for the Agriculture industry. The idea is to connect borrowers (farmers) with lenders (financial institutions). We have a good knowledge of this space. We understand that there is a lack of information that is the main cause of the problems that farmers now face when it comes to borrowing money from the banks, and other investors.
A] Based on my 15 years worth of experience, we also found that many small to medium businesses depend on a subsidies credit from the government, however this is not sufficient for them to make the most of their land, or their productive capacity. This is where our solution was designed – we want to use better data analytics and technology in order to help those farmers to connect to investors.
What is the motivation behind the project?
A] It's crazy to think that the world will need to triple it's productive capacity in order to feed the next population. When you see what happens in the farming side, it's a super intensive job that involves a lot of hard work, and it depends on climatic condition – they have a very poor, and a very hard life. Lack of credit is also an issue. I see the power of data here, to transform lives, and the economy of farming activity to become more sustainable. So, that is my motivation, to try and fix something in this sector that only really benefits the really large guys. We want to make the financing of the agricultural sector more sustainable and equally distributed.
Listen to the full interview here: