PhD Student, Brendan Smith chats to MIT's Storyteller In Residence discusses the challenges of balancing his academic life with the development of a commercial venture based around providing clean drinking water for millions of Indian people living in rural areas, and the rest of the developing world, as well as saving energy and minimising waste going into the natural environment.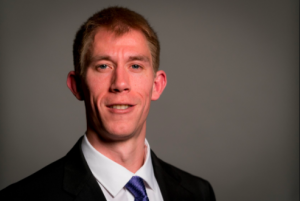 Can you introduce yourself?
My name is Brendan Smith, and I am currently a Fifth-Year PhD student in the Material Science and Engineering Department, here at MIT. I'm working on a thesis which is involved in the production of pourus materials. Over the course of this project, we've had a goal for our final application, and we've been simultaneously doing market research, and looking at possible commercialization strategies and business plans.
What would you say that your biggest challenges are?
I would say the biggest challenges are bridging the gap between the early stage research that academia demands, and the PhD space, and bridging the gap between that and commercialization. For me, it's about how you go out to people in the industry and say, 'Oh, I have this really cool idea, but it's still on a small scale', then convincing the same people that you are still relevant a year down the line, enough so people are still interested in working with you.
What's the goal for the future?
I'm finishing my PhD in two months, and then I'm going to be sticking round as a post-doc. I'll have the same group and same professor, and the same project. I'm going to use that next year, beginning this summer to really validate for myself, the market side of the technology, as well as the technology itself – to see if we can exist in that market, so we can be a commercial venture.
Can you afford to make mistakes?
I think that depends on what stage you are at, at the PhD stage, absolutely – it's a five-year trial of mistakes with very little success – slowly you find your niche by making mistakes. Once you leave MIT, where you have mentorship and backing, then you can't afford to make so many mistakes. It's important to work, and use resources like the Martin Trust Center – this whole ecosystem of people and resources to advance our technologies. Making mistakes at this point is fine, but don't wait to talk to people who are doing this sort of thing right now.
What key tips would you give to other students looking to get into entrepreneurship?
I would say just get involved as early as possible. Continue developing your idea, but get involved at the Martin Trust Center, or Sandbox – there are a plethora of resources. You don't have to worry about failure because everything that you do is just increasing your chances of success.
Hear the full interview below: