First Year MBA student, Dan Kessler talks about his passion for social impact and next generation engagement with his idea, FundOne. In this revealing chat, Dan discusses how his background led to him coming to MIT and taking an entrepreneurial path.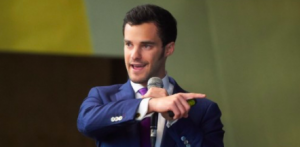 Can you introduce yourself, and tell me what you do here?
My name is Dan, and I'm a First Year MBA student at MIT Sloan. I have a real passion for social impact, and next generation engagement. I worked in Private Equity Real Estate for five years. On the next generation front, most notably, I created Secretary Clinton's 2016 Millennials Fundraising Campaign. We ran it across the country, and it was really aimed at getting young people across the country to make their first investments in the legal process. The hope is that we engage them enough that they come to vote.
At MIT, right now, and most recently at MIT fuse, I worked to launch a company called FundOne, which is really looking to streamline and democratize fundraising, making it easier for people all over the country and the world to support causes political, or non-profit that they believe and want to organize events around.
What are your biggest challenges?
I think that non-profits and politicians at large fail to recognize the importance of engaging young people. So, really it's getting this product launched and helping young people to organize, and support causes they believe in. We want to send a message to the older generations. Part of the challenge will be getting more established professionals to buy in to Milllennials being as impactful as they are. This product will enable young people to show the older generation that they do matter.
What would be your key tips for entrepreneurs?
I would say that it's about grit, and determination. As an entrepreneur you don't automatically have the answer. You are going to face a bunch of different hurdles down the road, and your job is to find every single method to overcome that obstacle. It's important not to give up as well, there are going to be a lot of moments where you are questioning yourself, and the product.
What would you say that your greatest accomplishments have been? 
I've been fortunate enough to be in a position to enact change – I was recently invited to speak in Europe to go and speak at the World Forum for Democracy in Strasbourg, France, last year, one year on from the US Presidential Elections. The topic I spoke on was engaging the next generation through direct grassroots investment – getting folks to invest in the political process, red or blue! This youth participation process is a problem all over the world, especially in the UK after Brexit.
Voter turnout is at an all-time low. Research shows that a person's voting habits are formed during the first two elections that they are exposed to. Thus, if we don't do enough to engage the next generation now, we risk an entire generation not having their voices heard, and not being represented. That is a huge threat to democracy.
Listen to the full interview here: