MIT student Meghan McCormick is the CEO of an up-and-coming social entrepreneurship company that spans three countries in West Africa, OZÉ is helping to build the region's economy by teaching and supporting local youth to develop their own small businesses.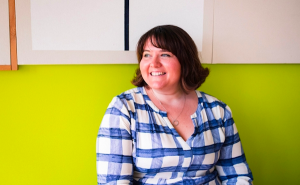 Can you introduce yourself and tell me about what you do here at the Martin Trust Center for Entrepreneurship?
My name is Meghan McCormick, and I'm a dual-degree candidate so I'm getting my MBA here at MIT Sloan, and my MPA at Harvard Kennedy. I work broadly across West Africa to create products and services to help small businesses launch and grow. Right now, I'm working on a product called OZÉ, which we call the insights engine in the pocket of every African small business owner, and that analyses and aggregates transaction data to push context specific recommendations to improve their business performance.
Where did that idea come from?
I was in the Peace Corps straight out of college in Guinea, and I started their first business accelerator called Dare To Innovate, or as we say over there, Osez Innover. As our portfolio of entrepreneurs grew, we realised that, we were not alone in knowing how to get an unemployed youth to find a business idea, eject some capital and throw them out into the market. Where everyone is falling down is when it comes to making sure that business can grow and thrive. So, I found myself always in Bush taxis, going up the country to sit down with entrepreneurs and figure out how I could improve their business. In turn, these people would pull out these huge paper ledger books and say, okay here's my business!' It's not immediately apparent how to deal with all this. I mean, I could type all this data into excel and know what analysis to run, but this is not effective intervention if you want a business consultant to work with a small portfolio of entrepreneurs. We started making OZÉ as an internal tool at Dare To Innovate, and once we realised that it had commercial potential, we spun it out into a for-profit company.
What are the biggest challenges?
Human Resources is always very difficult – we have a bias towards hiring people in the markets that we work in, and therefore because there are markets where there are such high unemployment rates, especially among youths; often times, we are a young person's first job in a professional environment. Not only are we working really hard to get a product out in the market. At the same time this is the first technology that I've built. So, for myself as a manager, this is the first time that I'm helping people to reach a goal.
What goals do you have?
We are hoping to launch the product to 1000 users on March 1, so that is my primary goal. We are also fundraising so that when we launch, we can continue to build momentum to get to paid customers.
How would you advise a student use the Martin Trust Center?
The Martin Trust Center really is all about the community. I love coming in here when I know that I have twenty minutes to kill, and I want to hear about somebody's company, or get feedback on mine.
How important do think mistakes are in the entrepreneurial process?
Every successful entrepreneur has made a lot of mistakes. I believe in that because it was Dare To Innovate's failure and our mistake while helping the entrepreneurs we were investing in, that grew into [the more effective tool] we have now!