MIT's Storyteller In Residence, Dom Smith sits down with Tyler Ibbotson-Sindelar to discuss learning how to code, starting out (and failing) in business start-ups, as well as key tips for any budding entrepreneurs.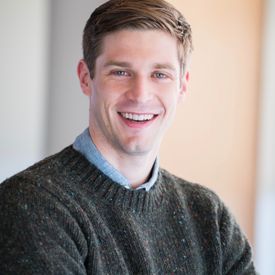 What do you do here at the Entrepreneurship Center?
T] I'm Tyler, and I'm a second year MBA here at MIT. I'm working on a start-up called Nullset Analytics, which is a program language designed for business people.
What's been the biggest challenge in pulling your idea together?
T] I'm building a programming language, but I have no formal experience in programming! It's a pretty audacious thing to try to do, and it started with about six months of just doing research on programming languages and what exists in the market today. I got my idea because I was working at a consulting firm doing analytics. I saw people in the business world struggling with data analytics problems, that they could solve if they knew how to code, but because they don't, they're stuck using ancient tools like Excel, that's 30 years old, but still 90 per cent of business people are using it as a tool to do data analytics.
I realized what the need, was and I figured out that, if you could get business people to write code, it would really transform their lives. I myself, didn't know how to solve that problem! I'm not a coder. I'm no expert. A lot of start-up entrepreneurs have this excitement when they have a problem, that they don't know anything about. On one hand it was this huge challenge, but on another, there was this motivation for me to learn this subject. I always wanted to be a coder. I wanted to learn about the philosophy behind it, and the different styles.
How important is it to make mistakes as an entrepreneur?
T] I'll tell you about a different start-up that I had last year that failed miserably. I do feel like failure is an essential part of the start-up journey. You learn so much through failure. You shouldn't really think about it like that. Just think about it like multiple strikes – you don't expect your first swing of the bat to be a full success.
T] Last year, I was working on a real-estate start-up, and I made as many classic mistakes as you can do. We came up with an idea before we'd even talked to potential customers. The customers were not interested in what we thought was an amazing idea! That was a huge learning curve. We were going to sell this incredible product, but nobody had any interest in what we were doing. We had to find a whole new set of customers.
T] I founded with a bunch of people that I really clicked with – two other business school students, but the problem was we had exactly the same skill-set. We worked really well together, but we didn't compliment each other at all. When we started to think about adding a tech person to the team, or somebody with a real-estate background, or legal expertise – we realized that we were looking at start-up team of six people which is just way too large. Every one of these major mistakes that we made really taught us lessons, about what we're going to do next. Now, all three of us have split off, and we're all working on different start-ups, and have found more diverse teams that are more appropriate.
What are you goals for the future?
T] We're trying to take a very 'boot-strap' approach. Everybody always asks us, 'Oh, are you going out for funding now?' I think that's the wrong question to ask, because it's all about the product, and the customers. We're building a new programming language, and that's a pretty ambitious thing to be doing. It requires deep intense thinking, but not a lot of people. Myself, and my co-founder are working together all the time, really reinventing a lot of the core ideas behind programming.
Once we get that done, and once we start attracting some customers, then we can talk about trying to scale the business. We are all about product development, and building something that customers care about. I would suggest to anybody, to start with products and customers, then worry about things like fundraising later.
How would you advice someone with that entrepreneurial spirit to take an idea to the next level?
T] Use the internet, learn and read. The Trust Center has incredible resources, but you can also get good information from some incredible blogs online where the best entrepreneurs write their experiences. Guy Raz has How I Built This Podcast, and Reid Hoffman the founder of Linkedin has an incredible podcast about how to start a business. There are so many places out there to get information, and you don't need to be part of a special institution to get your idea out there. The only thing that a special institution can get you is brand recognition, and it makes it easier. If you're a self-starter, you can find the right information on the net.