On May 2, the Martin Trust Center for MIT Entrepreneurship handed out its yearly entrepreneurship awards for students, mentors, and alumni at its annual Celebration of Entrepreneurship. The honorees included Bob Metcalfe '68, who for his lifelong contributions was awarded the Adolf F. Monosson Prize for Entrepreneurship Mentoring, and MIT juniors Anthony Cheng and Adam Zhao, co-directors of the student group StartLabs, who were presented the McGovern Award for innovative student entrepreneurship leadership.
Metcalfe being the recipient of this year's Monosson Prize is appropriate on many levels. In addition to his decades-long tireless support for entrepreneurship at MIT, he was, according to Trust Center Founder and MIT Sloan Professor Ed Roberts, also present 15 years ago when the award was conceived. Roberts recalls it was Metcalfe, himself, who suggested the creation of such an award in the first place.
"I was having lunch in the old MIT Faculty Club with Bill Grinker, Sonny Monosson's co-founder in American Used Computer Corp., who was giving a gift to the Institute to honor Sonny's legacy," Roberts recalls. "Bob Metcalfe just happened to be walking past our table and I asked him how best to do so. Without pause, Bob said that because Sonny was such a phenomenal advisor and loved giving help to people that we should create a prize for those who do the same: provide advice and mentorship to young startups."
Metcalfe has a long history of working with startups, something he does because of the personal fulfillment he, himself, receives. "Every time I become engaged with MIT, and I have repeatedly since I came here as a freshman in 1964, good things happen to me," he says. "I consider myself lucky to be able to support STEM startups from a place like MIT. It's a very high calling and actually quite fun."
What may seem like fun to Metcalfe has proven to be invaluable advice and connections to many entrepreneurs over the years including the current Managing Director of the Trust Center, Bill Aulet, who has found Metcalfe's conversations invaluable both when Aulet was an entrepreneur and also as an entrepreneurship educator today.
The scope of Metcalfe's support has been very broad as well as deep and decades long. He has hosted dozens of salons in his Back Bay home for MIT students to meet with key members of the MIT and Boston entrepreneurial community. He has done individual mentoring and given talks in many workshops. He has served as a judge in competitions and been a keynote speaker to help raise the profile of entrepreneurship at MIT. More recently, Metcalfe was a Visiting Innovation Fellow, spending four days a month meeting and mentoring more than 120 student startups during the 2015-16 academic year.
Professor Roberts adds, "Bob is able to communicate in a real fashion with young students such that they take his advice. And he continues to spread the gospel as a Professor of Innovation at the University of Texas. He is truly the perfect representation of who the Monosson Prize was created to honor."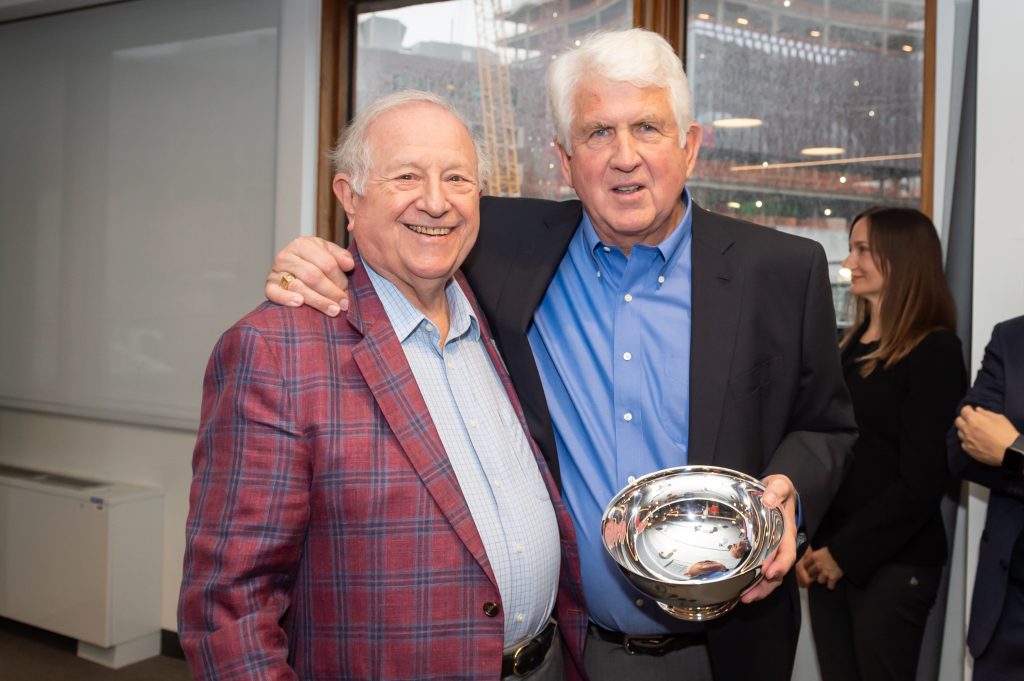 Trust Center Founder Professor Ed Roberts and Bob Metcalfe '68, 2019 Monosson Award Winner
StartLabs received the Patrick J. McGovern, Jr. Award, presented annually to an individual student or student team that has made a significant impact on the quality and overall spirit of entrepreneurship at the Institute. In their role as co-directors, Anthony Cheng and Adam Zhao oversaw a team of student leaders providing support to MIT students interested in entrepreneurship and innovation, primarily MIT undergrads. Some of these initiatives include the annual Entrepalooza celebration, the weekly "perpetual hackathon" InCube, and regular treks, talks, and info sessions that connect the MIT community with networks in greater Boston and beyond.
"One key aspect of the Trust Center mission is to engage with all MIT students who are interested in learning about entrepreneurship during their time at the school, and StartLabs has been an invaluable partner in helping us build stronger connections with the undergraduate population," said Aulet. "Anthony and Adam – and the rest of the StartLabs team – are examples of what's special about MIT students, and entrepreneurs in general: putting in the work to create communities that bring value to all stakeholders."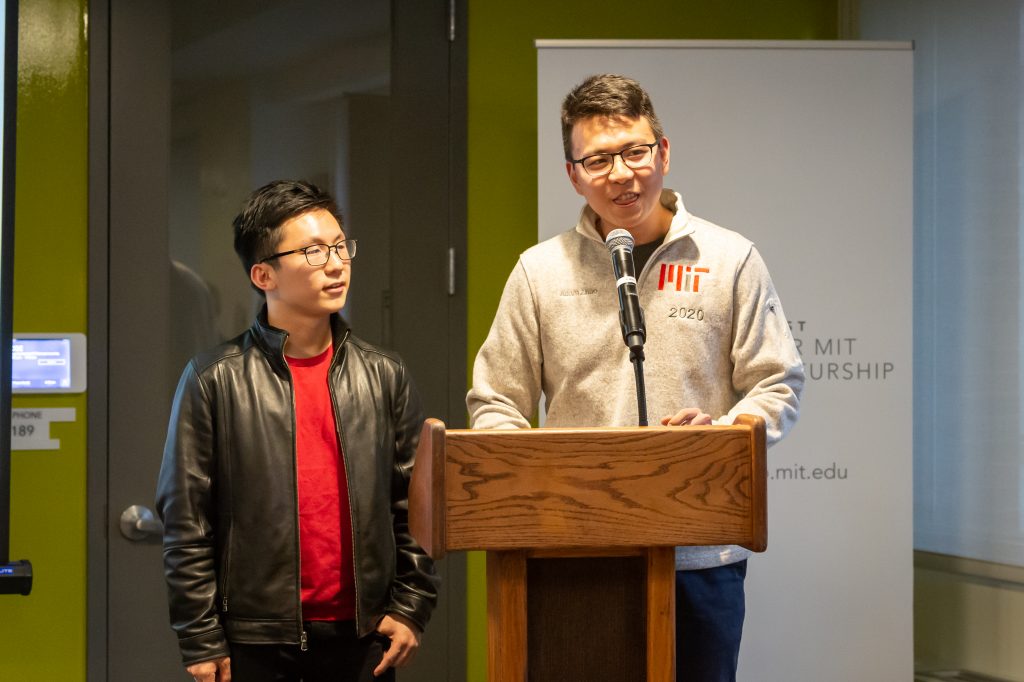 MIT StartLabs co-directors Anthony Cheng and Adam Zhao, 2019 McGovern Award Winners
In addition to these prizes, the annual "Eddies" Awards (named after Professor Ed Roberts) were given out to the following alumni teams:
Most Likely to Donate a Building: Ed Hallen of Klaviyo.
From humble beginnings seven years ago at the Trust Center, co-founders Ed Hallen (MBA '12) and Andrew Bialecki (Harvard) have quietly built Klaviyo into a Boston tech giant. Today the company is using data science to create the future of how businesses grow and talk to their customers. They have over 200 employees, 15,000 customers, and are on track for an IPO in the not-too-distant future. Klaviyo was also recognized in 2019 by Inc. Magazine as one of the "Best Places to Work."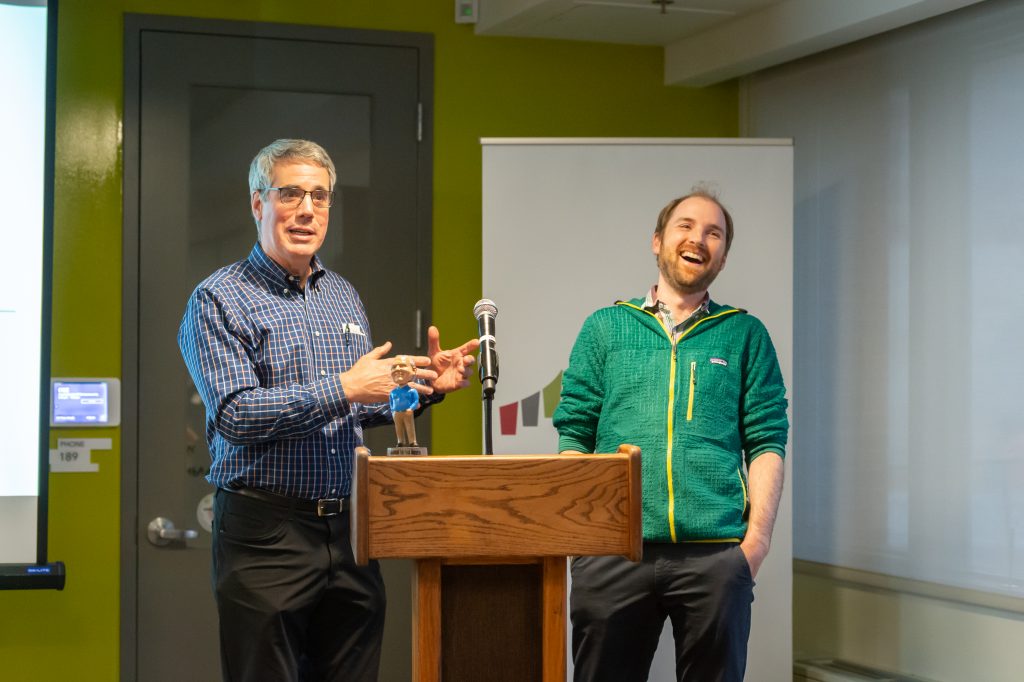 Bill Aulet with Ed Hallen of Klaviyo, 2019 "Eddies" Award Winner
Can't Believe This Company Came Out of MIT: AdaViv.
The company allows for new precision agriculture and is a recent participant of the Trust Center's delta v accelerator (2018) as well as the MIT DesignX program. AdaViv's co-founders are Ian Seiferling (Post-Doctorate at MIT Senseable City Labs), Mohammad Vazifeh (Senior Post-Doctorate Fellow at MIT Senseable City Labs), and Julián Ortiz (MBA '19). The company is a hardware-enabled, predictive agriculture company that keeps "24/7 eyes on the plants." Its sensing and AI+ computer vision uncovers hidden plant biometrics and translates data into actionable insights for growers. From disease prevention to rapid experimentation, improved yields and quality optimization, AdaViv helps producers grow smarter.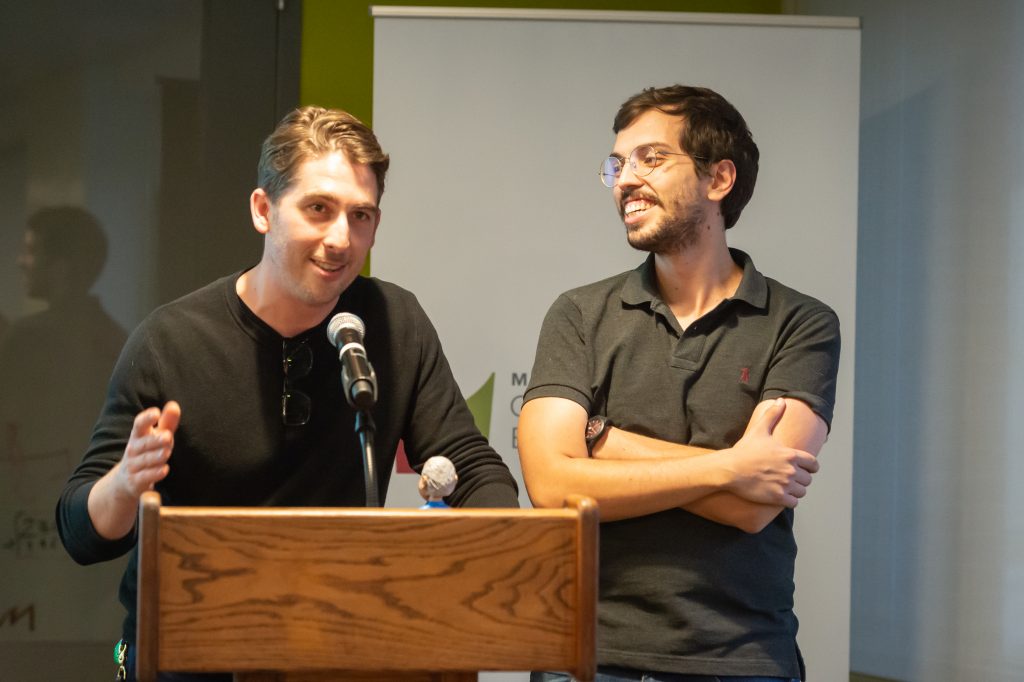 Ian Seiferling and Julian Ortiz of Adaviv, 2019 "Eddies" Award Winner
People's Champion: Ori
Carlos Rubio, Chad Bean, Hasier Larrea, Ivan Fernandez de Casadevante, and Professor Kent Larson entered the 2015 delta v cohort as MorphLab with an interesting idea for robotic furniture based on work they had done at the MIT Media Lab. They exited the accelerator a serious company, and now Ori has since raised over $7M and signed a major partnership agreement. Ori's founders remain involved at the Center and contribute back on a regular basis always "wow"-ing people with their product demos.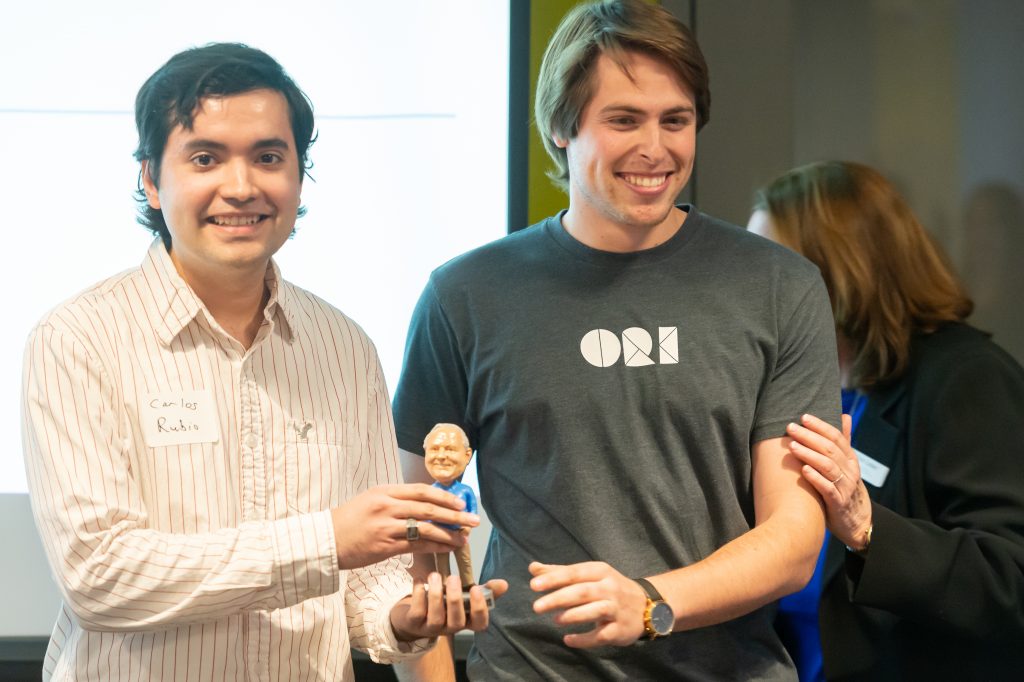 Carlos Rubio and Chad Bean of Ori Living, 2019 "Eddies" Award Winner