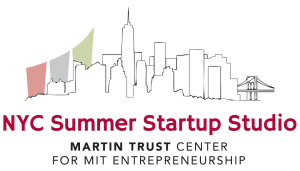 Background
This summer, the Martin Trust Center launched the MIT NYC Summer Startup Studio, the very first satellite program of our summer accelerator program. Seven student startup teams worked on their businesses full-time from June to August, receiving a rigorous educational and mentorship-based accelerator experience.
Led by NYC Managing Director Carly Chase, teams had access to New York-based industry leaders and mentors and the prospect to be fully immersed in the city's entrepreneurial and technology communities, including off-site visits to leading venture capital firms and incubators plus opportunities to listen and learn from inspiring speakers on relevant startup topics. In addition, Bill Aulet and the Trust Center Entrepreneurs-in-Residence regularly visited the cohort at its home in SoHo, Two Sigma Ventures, who generously donated space and resources to house the teams.
New York was selected as the first beachhead to expand MIT delta v because of its vibrant community of specific industries such as FinTech, real estate, enterprise tech, media & advertising, and publishing.
"We are thrilled to bring the Trust Center's unique approach to entrepreneurship education to New York City. It is important to provide students the opportunity to launch their businesses in a safe environment where they can learn from successes and failures," said Aulet. "New York City is the perfect location for these specific teams in the Summer Startup Studio to obtain real world experience."
"It has been an amazing experience spearheading the Trust Center's pilot summer accelerator in New York City. The startup community here has been so welcoming and supportive, and the teams have greatly bene ted from exposure to all that NYC's innovation ecosystem offers," said Chase. Also key to the program's success was founding Executive Director Alessandra Henderson, who helped initiate the program and worked part-time mentoring teams. Chase and Henderson's deep ties in the MIT and NYC entrepreneurship ecosystem allowed for greater collaboration and community building between the MIT delta v and New York Summer Startup Studio programs.
How does the MIT NYC Summer Startup Studio differ from MIT delta v?
There are more similarities than differences between the two programs.
Both programs run from June through August followed by Demo Days in September
MIT student founders will receive a $2K/month fellowship each month to help cover expenses
Each team must have at least one MIT student in a degree-granting program as a founder

A post-doc will be counted as an MIT student for this purpose. MIT students who graduate in February or June of the current year are considered current MIT students.

Teams worked full-time while based out of a central co-working space in NYC
Individual mentorship and coaching given by MIT Entrepreneurs in Residence and a wide array of guest talks
Access to mentors + monthly meetings with advisory boards comprised of industry experts relevant to your team's field
Regular social events for all members of the cohort
Key differences between the MIT delta v and MIT NYC Summer Startup Studio teams include:
NYC-based teams were not eligible for the $20/K in equity-free milestone funding over the course of the summer in 2017
A full immersion inside the New York entrepreneurial and finance communities including weekly roundtable lunches
Access to New York-based industry leaders and mentors in your team's field
Off-site visits to leading VC firms, incubators, and more in the Greater NYC area
"Satellite" support of Trust Center resources and staff with the stated goal of maximizing shared experiences across both locations