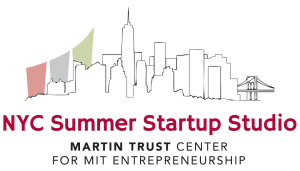 Take part in a new entrepreneurship program this summer
Interested in an accelerator program based in New York City for the summer of 2017? The Trust Center is adding more opportunity for student teams with our inaugural MIT NYC Summer Startup Studio, focusing on a rigorous three-month educational and mentorship-based experience for teams that would benefit from being centered in the Big Apple.
If your venture is working in the spaces of FinTech, Media, Real Estate, or Creative Arts, for example, New York City may be an attractive home for you to work on growing your company this summer with greater exposure to your specific industry or a broader array of potential mentors and contacts for your business.
How does the MIT NYC Summer Startup Studio differ from MIT delta v?
There are more similarities than differences between the two programs.
Both programs will run from June through August followed by Demo Days in September (specific dates TBA)
MIT student founders will receive a $2K/month fellowship each month to help cover expenses
Each team must have at least one MIT student in a degree-granting program as a founder

A post-doc will be counted as an MIT student for this purpose. MIT students who graduate in February or June of the current year are considered current MIT students.

Teams will work full-time while based out of a central co-working space (either the Trust Center or an office in NYC)
Individual mentorship and coaching from MIT Entrepreneurs in Residence, plus a wide array of guest talks
Access to mentors + monthly meetings with advisory boards comprised of industry experts relevant to your team's field
Regular social events for all members of the cohort
Key differences between the MIT delta v and MIT NYC Summer Startup Studio teams include:
At this time, NYC-based teams will not be eligible for the $20/K in equity-free milestone funding over the course of the summer

Although there may be some equity-free funding announced later, we want to provide teams with the expectation that this aspect of the MIT delta v program in Cambridge is not part of the MIT NYC experience

A full immersion inside the New York entrepreneurial and finance communities including weekly roundtable lunches
Access to New York-based industry leaders and mentors in your team's field
Off-site visits to leading VC firms, incubators, and more in the Greater NYC area
"Satellite" support of Trust Center resources and staff with the stated goal of maximizing shared experiences across both locations
We believe that the Summer Startup Studio is an exciting next step for entrepreneurship education at MIT and hope you are interested in being a member of our initial cohort.
Applications are open until Sunday, April 9th at 8pm Eastern (as opposed to March 31st for MIT delta v).