MIT NYC Summer Startup Studio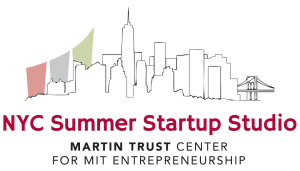 APPLICATIONS
Applications for summer 2018 are now closed. (Deadline was March 30th.)
Background
Just like MIT delta v, the student venture accelerator based at the Trust Center on the MIT campus, the NYC Summer Startup Studio provides a capstone educational opportunity for MIT student entrepreneurs that prepares them to hit escape velocity and launch into the real world. Student startup teams work on their businesses full-time from June to the end of August, receiving a rigorous educational and mentorship-based accelerator experience.
New York was selected as the first beachhead to expand MIT delta v because of its vibrant community of specific industries such as FinTech, real estate, fashion tech, enterprise tech, media & advertising, and publishing just to name a few. Led by NYC Managing Director Carly Chase, teams have access to New York-based industry leaders and mentors and the prospect to be fully immersed in the city's entrepreneurial and technology communities, including off-site visits and events to venture capital firms, companies, and relevant meet-ups to opportunities to listen and learn from inspiring speakers on startup topics. In addition, Bill Aulet and the Trust Center Entrepreneurs-in-Residence visit the cohort at its home, Two Sigma Ventures at Tata Innovation Center, 11 East Loop Road, New York, NY 10044, who generously donates space and resources to house the teams.
 Questions?
MIT NYC Summer Startup Studio Logistics
12 weeks
MIT student led startups focused in the industry verticals NYC leads in including: FinTech, Real Estate Tech, Fashion Tech, Creative Arts, Media, AdTech
Equity-free program
Free, prime office space at Two Sigma Ventures in SoHo
Resources including 1 on 1 mentors, mock board of directors, speakers series, skill based experts
Cohort of peers
$2,000 monthly fellowships from the Goss Foundation for current MIT students
Teams are eligible to earn up to $20,000 in equity-free funding
Full immersion into the NYC ecosystem
Why New York City?
Access to startup ecosystems NYC leads in, including: FinTech, Real Estate Tech, Fashion Tech, Creative Arts, Ad Tech, Media
Robust corporate ecosystem; home to more Fortune 500 companies than any other U.S. city (e.g., JPMorgan Chase, American Express, Time Warner, Viacom, Ralph Lauren)
Support of MIT alumni (10,000+) in the NYC area
Second largest VC market in the US
2017 Teams
Learn about the 2017 NYC Summer Startup Studio experience and teams, as well as watch each team's one-minute Demo Day pitches.