Corporate Entrepreneurship
Applications for the Fall 2019 semester are now closed.
Our class is oversubscribed for Fall 2019. Please email us if you have any questions.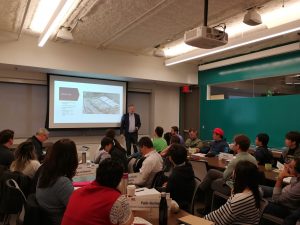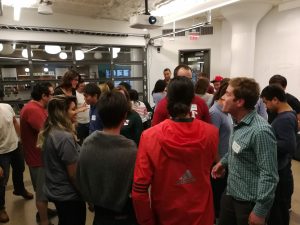 15.369 CORPORATE ENTREPRENEURSHIP
REDESIGNED FOR FALL 2019
Tuesdays 4:00 – 6:30 pm | 9 units (3-0-6) | E51-376
Email us to request a copy of the Syllabus.
Note: Due to popular demand, we have increased the maximum class size from 25 back to 35 for Fall 2019.
INSTRUCTORS
Bill Aulet
Professor of the Practice & Managing Director of the Martin Trust Center for MIT Entrepreneurship
Elaine Chen
Senior Lecturer and Entrepreneur-in-Residence, Martin Trust Center for MIT Entrepreneurship
Sue Siegel
Lecturer, Martin Trust Center for MIT Entrepreneurship
Formerly GE's Chief Innovation Officer and CEO, GE Ventures
TA
Brendon Chiu
LGO 2020 and 15.369 FA2018 Alumni
PRE-REQUISITES
Pre-requisite: 15.311, 15.S61 or demonstrated familiarity with organizational processes frameworks
Admission is by application only. Apply here.
MAXIMUM CLASS SIZE
Class size will be limited to no more than 35 students. This class will not be open to listeners.
WHO SHOULD TAKE THIS CLASS?
This class is for students who want to learn how to help an existing organization become more entrepreneurial – and how they can apply organizational skills and startup best practices to succeed as corporate entrepreneurs or innovation leaders in large organizations.
OVERVIEW
Startups have been very successful creating innovative new products while corporates have been dramatically less efficient.  What can corporations learn from startups – and how might they set up their organizations to get the best of both worlds?
This course will address the practical steps that can be taken to existing organizations (corporations, non-profits, government and more) to become more entrepreneurial.  A systematic approach will be utilized integrating lectures, exercises, guest speakers and a final action learning project.
Note: A revised and updated syllabus for the redesigned Fall 2019 class may be downloaded from the Sloan Course Browser.
LEARNING OBJECTIVES
Upon completion of this course, students will:
Have acquired practical frameworks, skills and mental models to help them succeed as change agents in innovation and entrepreneurship in a complex organization.
Understand how corporate leaders make decisions about creating organizational structures, and how they select and deploy enablement tools such as incubators, accelerators, corporate venture capital and the like to foster innovations.
Know how to succeed as a founding member of a corporate entrepreneurship venture team by applying practical organizational skills to navigate complex organizations and build support from key stakeholders.
Know how to modify and apply startup best practices to build new entrepreneurial ventures quickly – whether they are solving problems for internal or external customers.
TEAM PROJECTS
Students will form teams of 3-5 and work on two team projects.
Project 1: Teams will interview practitioners currently running a corporate innovation and entrepreneurship enablement tool (e.g. incubator, accelerator, CVC etc) from different companies, and compare similarities and differences in their approach.
Project 2: Teams will work with a corporate entrepreneur or innovation leader to build knowledge about how their ventures are unfolding in their organizations, and apply what they have learned in class to help the entrepreneur/leader address challenges encountered in the field.