Corporate Entrepreneurship
Applications for the Fall 2019 semester are now open. 
Notification of class status will be made on or before Friday, August 31, 2019.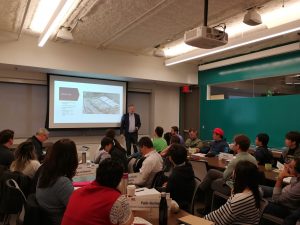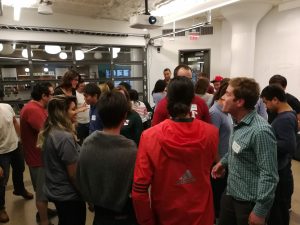 15.369 CORPORATE ENTREPRENEURSHIP
REDESIGNED FOR FALL 2019
Tuesdays 4:00 – 6:30 pm | 9 units (3-0-6)
PRE-REQUISITES
By Application Only
MAXIMUM CLASS SIZE
Class size will be limited to no more than 25 students. This class will not be open to listeners.
WHO SHOULD TAKE THIS CLASS?
This class is for corporate entrepreneurs who want to learn how to help existing organizations solve business problems using their entrepreneurial spirit and skills. They will learn how to combine organizational development and startup best practices to help their organization become more entrepreneurial.
OVERVIEW
Startups have been very successful creating innovative new products while corporates have been dramatically less efficient. What can corporations learn from startups – and how might they set up their organizations to get the best of both worlds?
This course will address the practical steps that can be taken to existing organizations (corporations, non-profits, government and more) to become more entrepreneurial. A systematic approach will be utilized integrating lectures, exercises, guest speakers and a final action learning project.
Note: A revised and updated syllabus for the redesigned Fall 2019 class will be available for download soon. Stay tuned.
LEARNING OBJECTIVES
Upon completion of this course, students will:
Understand the assets and obstacles corporate leaders face in trying to make their organization become entrepreneurial
Be able to systematically approach innovation challenges via a newly developed framework to tackle corporate entrepreneurship challenges. This framework includes the following themes:

Assessment: Assess and define business challenges, conduct root cause analysis, and analyze options to see if corporate entrepreneurship is a good way to address these challenges
Tools: Review and identify corporate I&E tools to solve these problems, such as incubators, accelerators, corporate venture capital and more
Implementation: Develop and implement the right organizational structures and processes to set up the right environment within which they might deploy and manage a portfolio of selected corporate I&E tools using industry best practice.

Be able to apply this framework to make strategic decisions about initiating, expanding or rebalancing corporate innovation and entrepreneurship initiatives
Be able to apply industry best practices from both the corporate world and the startup world to set up and implement corporate innovation and entrepreneurship tools, so that they can deliver lasting value to the parent organization
Help organizations design and track the right KPI's (Key Performance Indices) for innovation groups so that they can deliver lasting value to the parent organization
TEAM PROJECT
Students will form teams of 3-5 and be matched with an organizational sponsor to apply the framework to a real life challenge in an existing organization. Organizations will be sourced from a predetermined list comprising for-profit corporations, not-for-profit organizations, government agencies and more. Project scope will be pre-negotiated with organizational sponsors to ensure student teams will have a successful learning experience and sponsors will get actionable recommendations from the outcome of the team project..
The output of the team project will be a brief presentation summarizing the team's assessment findings, and actionable recommendations for what the organization might do to address their current corporate entrepreneurship challenges.
INSTRUCTORS
Bill Aulet
Professor of the Practice & Managing Director of the Martin Trust Center for MIT Entrepreneurship
Elaine Chen
Senior Lecturer and Entrepreneur-in-Residence, Martin Trust Center for MIT Entrepreneurship