Applications for the Fall 2017 semester are now closed.
The class will be offered again in the Spring semester.
INTRO TO MAKING
15.351 – Fall 2017 – Tuesdays 1:00 – 2:30 pm – E62-262
6 units (3-0-3, PDF)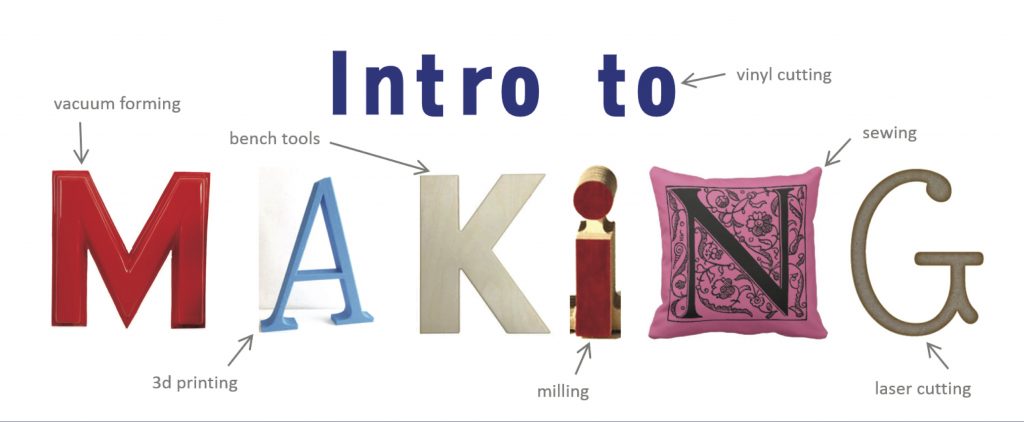 "Introduction to Making" (15.351) is a highly immersive, hands-on introductory course for undergraduate and graduate students in any course of study. If you are curious about how to make physical things, make them work, and integrate them with electronics/software, you've come to the right place.
You will gain knowledge of common fabrication techniques and skill in using them …
3D printing
CNC machining
laser cutting
electronics
Arduino programming and more.
You will then use this knowledge and skill in a team project that leads up to the "Demo Day Grand Challenge", where you will compete for the coolest prototype award.  The class uses lectures when necessary, but we also integrate fun activities that require using knowledge and skill, i.e. Mens et Manus:
"Break Something Challenge", where you will take apart something and figure out what's inside.
"MacGyver Challenge", where you race against the clock to complete a first making 'mission' using your mind, hands, raw materials, and hand tools.
Taught by:
Professor Marty Culpepper, MIT's Maker Czar, Project Manus
Professor Bill Aulet, Martin Trust Center for MIT Entrepreneurship
Elaine Chen, and Nick Meyer, Lecturers, Martin Trust Center for MIT Entrepreneurship
NOTE FOR 1st YEAR MBA STUDENTS:
First year MBA students cannot take electives past the MBA core electives or track elective courses.