Applications for the Fall 2018 semester are now open. Application deadline is Monday, August 27.
If we receive more applications than there are spots in the class, we will run a lottery during the last week of August, 2018 to determine who will be accepted.
Notification of class status will be made no later than Friday, August 31, 2018.
INTRO TO MAKING
2.S973 / 15.351 – Fall 2018 – Tuesdays 1:00 – 2:30 pm, Room E40-163
6 units (3-0-3, PDF)
Applications are open for Fall 2018. APPLY NOW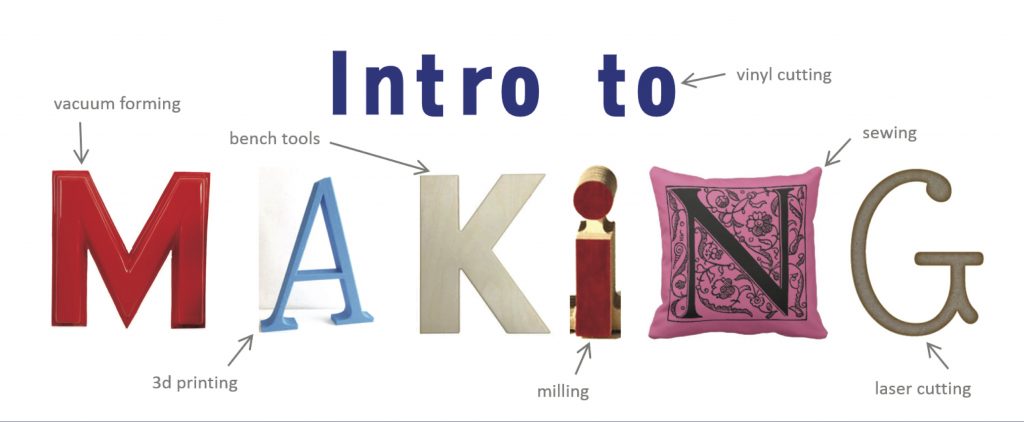 "Introduction to Making" (2.S973 / 15.351) is a highly-immersive, hands-on introductory course for undergraduate and graduate students in any course of study. If you are curious about how to make physical things, make them work and integrate them with electronics/software, you've come to the right place.
You will gain knowledge of common fabrication techniques and skill in using them:
3D printing
CNC machining
laser cutting
electronics
Arduino programming and more.
You will then use this knowledge/skill in work on a team project that leads up to the "Demo Day Grand Challenge" where you will compete for the coolest prototype award.
The class uses lectures when necessary or best, but we also integrate fun activities that require using knowledge and skill, i.e. Mens et Manus:
"MacGyver Challenge", where you apply maker skills you didn't know you have to complete a first making 'mission' using your mind, hands, raw materials, and hand tools.
Equipment petting zoo: touch and feel common tools, techniques, and equipment (including 3D printers, Arduino boards, flashing lights, and more)
"Design Challenge", where you race against the clock to build a machine to complete a mission
Taught by:
Professor Marty Culpepper, MIT's Maker Czar, Project Manus
Jon Hunt, Associate Director and IT Guru, Project Manus
Tony Ingelido, Technical Tactician, Project Manus
Elaine Chen, Senior Lecturer and Entrepreneur-in-Residence, Martin Trust Center for MIT Entrepreneurship
Nick Meyer, Lecturer and Entrepreneur-in-Residence, Martin Trust Center for MIT Entrepreneurship
NOTE FOR INCOMING 1st YEAR MBA STUDENTS FOR ACADEMIC YEAR 2018-2019:
1st year MBA students CANNOT take electives past the MBA core in their first Fall semester the year they arrive at MIT.
You may apply to the Spring session in your first year – or the Fall or Spring session in your second year.