2.351J /15.351J INTRODUCTION TO MAKING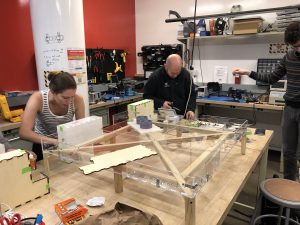 Offered Fall and Spring
Tuesdays 1:00 – 2:30 pm @E40-163 (The Garage)
6 units (3-0-3, PDF)
Applications are now open for Spring 2020!
Application deadline: Wed Jan 29, 2020
Notification of acceptance: Fri Jan 31, 2020
"Introduction to Making" (2.351J / 15.351J) is a highly-immersive, hands-on introductory course for undergraduate and graduate students in any course of study. If you are curious about how to make physical things, make them work and integrate them with electronics/software, you've come to the right place.
You will gain knowledge of common fabrication techniques and skill in using them:
Making things with hand tools
3D printing
laser cutting
electronics
Arduino programming and more.
You will then use this knowledge/skill in work on a team project that leads up to the "Demo Day Grand Challenge", where you will compete for the coolest prototype award.
The class uses lectures when necessary or best, but we also integrate fun activities that require using knowledge and skill, i.e. Mens et Manus:
"MacGyver Challenge", where you apply maker skills you didn't know you have to complete a first making 'mission' using your mind, hands, raw materials, and hand tools.
"Design Challenge", where you race against the clock to build a machine to complete a mission
15.351 Fall 2019 Instructors:
Mac Cameron
Instructor, Martin Trust Center for MIT Entrepreneurship
MIT Office: E40-160, Email: mac1@mit.edu
Martin Culpepper
Professor of Mechanical Engineering and MIT Maker Czar
MIT Office: 35-237, Email: mculpepp@mit.edu 
Elaine Chen
Senior Lecturer and Entrepreneur-in-Residence, 
Martin Trust Center for MIT Entrepreneurship
MIT Office: E40-160, Email: eychen@mit.edu 
Jonathan Hunt
Associate Director and IT Guru, Project Manus 
MIT Office: 35-237, Email: jmhunt@mit.edu 
Angelina Jay
Technical Instructor,  Project Manus  
MIT Office: 35-237, Email: angiejay@mit.edu
NOTE FOR INCOMING 1st YEAR MBA STUDENTS:
1st year MBA students CANNOT take electives past the MBA core in their first Fall semester the year they arrive at MIT. You may apply to the Spring session in your first year – or the Fall or Spring session in your second year.
NOTE FOR MBA STUDENTS WITH A CREDIT LIMIT ON NON-COURSE 15 COURSES:
For accepted students: If you are concerned about using up your non-Course 15 credit allocation, please ensure you are registered under 15.351J, not 2.351J. Thank you.