Schedule
Resources
ProtoWorkshop builds and supports community across MIT by bridging entrepreneurship and innovation and accelerates learning via experimentation. Currently registered MIT students may access the space following a general orientation, after which they may take advanced trainings to gain access to our 3D printing, laser cutting, and bench tools. Orientation and training are walk-in during open shop hours, so stop by any time we're open! See schedule above.
The ProtoWorkshop makerspace gives you access to an exciting community of entrepreneurs and makers. This access includes:
Access to the

ProtoWorkshop Guardians

for project support
tools for working with clay and foam
basic mechanical hand tools, a drill press and band saw
soldering irons, electronics components such as breadboards, Arduinos, etc.
a laser cutter (requires additional training; may only be used under supervision)
two premium desktop 3D printers and the Stratasys standing 3D printer
(3D printing requires additional training to be used, regardless of your experience with other 3D printers; use of the Stratasys will require submitting your part and requirements to our system to be printed.)
Hours
Due to COVID-19, the Trust Center will be closed until further notice. Please connect with staff and entrepreneurship resources via our online Orbit platform.
Watch!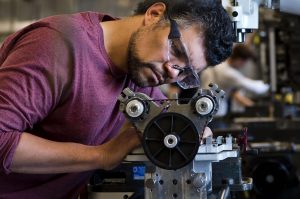 "ProtoWorks enables MIT students to have the holistic experience that combines MIT's bedrock principle of Mens et Manus with their entrepreneurial passions. The ProtoWorks facility, the programs of the Martin Trust Center, and the community of passionate people that inhabit both, [help to] form an entrepreneurial ecosystem that supports anything from software to the hard core technical innovation that defines MIT.  The melding of tools, teams, and technology that is enabled via the MTC ProtoWorks is the gold standard for impactful making + entrepreneurship in higher education."
— Martin Culpepper, Professor of Mechanical Engineering, and MIT's "Maker Czar"