Today, November 19, is Women's Entrepreneurship Day, a day celebrating and encouraging female entrepreneurship. Our student venture accelerator program, delta v, has launched some amazing female entrepreneurs, and our historical data show us that the women-led delta v companies surpass our very impressive overall stat that 3 of every 4 delta v startups are still operating.
At MIT, our goal is to support all our entrepreneurs and make them as successful as possible. That is why we are thrilled when we hear feedback like the quote below. It shows us that we are succeeding in our support of diverse entrepreneurs, and neutralizing any implicit biases.
"In the Trust Center, gender, age, race, culture, even hierarchy, are invisible. It's the only space I've ever walked into where all that baggage was truly left at the door. This almost disorienting sense of equality allows for a re-imagining of identity."
Joan Kelly, delta v entrepreneur and CEO of Abound
For the entire month of November, we're profiling some of our women entrepreneurs, faculty, and Trust Center staff on our Instagram feed (@eshipMIT) with the tag #WEMatMIT (which stands for Women's Entrepreneur Month at MIT). Follow the feed and be inspired!
Today, the Martin Trust Center for MIT Entrepreneurship celebrates Women's Entrepreneurship Day by focusing on the women at MIT who support all of our entrepreneurs, and sharing their wisdom.
---
Here is our lineup of stellar women supporting MIT's entrepreneurship community and their responses to our questions on entrepreneurship. As I reflect on the contributions of these women, it is evident that the strong entrepreneurial ecosystems at MIT did not just materialize; they are nurtured, fostered, and improved upon by these individuals. They all bring a focused passion to their roles – with a lack of ego, they meet students where they are on their journeys to become entrepreneurs and help them flourish.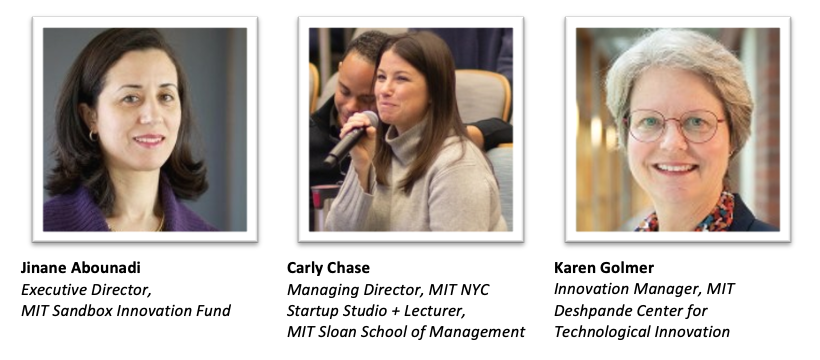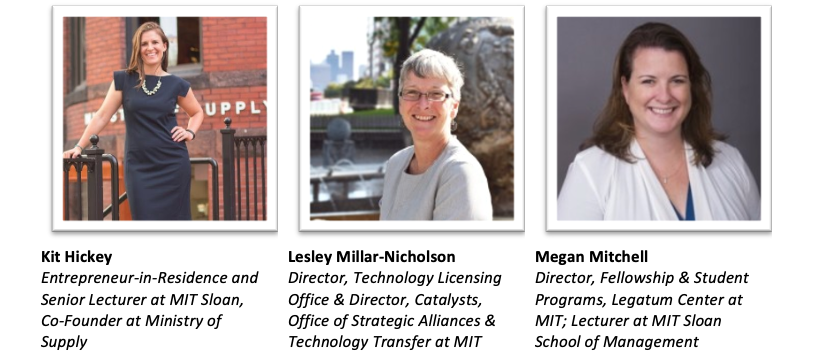 What advice can you share with aspiring entrepreneurs?
 "Just start! Usually that first step is the hardest one. If you just start you will see that anyone can get started. Figure out what that first step is and do it. And if your first step was to make a PowerPoint, nice job doing that first step, but now get out of PowerPoint and talk to humans!!" – Kit Hickey
 "Admit what you don't know. Share your idea and take every opportunity to learn from those around you. This isn't always a comfortable way for talented, high performers to operate. But it is critical. Rather than always looking for validation of your ideas, look for evidence that reveals weaknesses in your hypotheses." – Megan Mitchell
 "Seek a broad range of advisors, mentors, colleagues – diversity in terms of age, gender, experience, outlook on life and don't limit it to people you think you align with – so that you are challenged to move beyond your comfort zone." – Lesley Millar-Nicholson
 "Follow your intuition and do what you feel is right. Women have stronger emotional intelligence, use this to make appropriate decisions and follow through with persistence." – Karen Golmer
"Remain open-minded to what you learn through research. Approach research with curiosity, rather than an opportunity to reinforce and validate your current assumptions. Embrace surprising results and be ready to go back to the drawing board and adapt your solutions to a deeper understanding of the problem you're looking to solve." – Jinane Abounadi
 "The outcome of any entrepreneurial endeavor is extremely uncertain, so you should be really excited about the journey. And surround yourself with people you like and respect, because you'll be spending a lot of time together!" – Carly Chase
What do you believe female entrepreneurs need to do more of/better/differently to be successful?
 "Unfortunately, we still need to have incredibly thick skin because the industry is not yet as equitable as it should be. Given the inequities, we've got to support and stick up for one another, in both small and big ways." – Carly Chase
 "Recognize that there are fewer female-backed startup companies, fewer women on Boards of companies, fewer patent holding female scientists – but don't let that be a hurdle. In fact, find those who have or are those things – and learn from them, what inspires them, what tricks and tools have they created to achieve what they have achieved." – Lesley Millar-Nicholson
"Really examine what YOU want out of your entrepreneurial journey. We spend so much of our lives being told what we should be, it is a challenge to break away from that and define what success is for you. Success for you may be completely different than what success means for your classmate, and that's OK. By actually defining success for yourself, you can have a much more meaningful, impactful and enjoyable career." – Kit Hickey
 "Female entrepreneurs need to own their space, their knowledge, and their brilliance. Women have to be deliberate in the words they use when they speak about their experience and their ventures. Please don't say, 'If the pilot is successful, we will…" Come from an affirmative position. Trade that language for something more like: "Following our successful pilot, we will…" – Megan Mitchell
 "Speak up more often (males don't wait for their turn to speak ) – so don't wait to be asked, offer up your opinions, experience, insight and do it in a thoughtful and measured way – so people are keen to listen." – Lesley Millar-Nicholson
"Female entrepreneurs need to work together and hold one another accountable when they see another not owning her own power. Women working together will elevate all." – Megan Mitchell
"Own your 'imposter syndrome' and don't let it come an excuse to demonstrate your knowledge, passion and capabilities – in fact, challenge that feeling by speaking up." – Lesley Millar-Nicholson
"Don't back down, instead listen with respect and learn about other perspectives. When feeling blocked or ignored, don't speak louder to be heard – try a different approach." – Karen Golmer
"Try not to take it personally when you hit a roadblock, or your initial ideas get rejected. Be confident in your talent and your ability to overcome hurdles and challenges. Use a network of caring mentors to get honest feedback and be open to listening and growing in the process." – Jinane Abounadi
How do you, personally, keep inspired and moving forward?
 "I look for and accept the challenges that appear – one at a time. When I end up in a conflict or uncomfortable situation, I use humor to diffuse the tension and redirect to move forward." – Karen Golmer
 "For me, the inspiration at his phase of my career comes from stepping back and hearing about stories of other amazing women that have worked hard and persevered to make a difference. I felt so inspired when I heard that there was a woman scientist (Ozlem Tureci) behind the [COVID-19] Pfizer vaccine. In my role, I see the potential of so many of our brilliant female students (undergrad or graduate) to make significant impact in the future and I will feel proud to have been part of their journey." – Jinane Abounadi
"I love engaging with people – the passion, diversity and new ideas at MIT keep me inspired every day. Every day I learn from a student, and I love it! Being at a place where you continue to learn, can engage with amazing people, and have the autonomy to solve hard problems you are interested in, is what I love about being an EIR at MIT." – Kit Hickey
 "It is the entrepreneurs, their individual stories and passion that inspire me and keep me moving forward. Each entrepreneur has a story that connects them to the problem they are trying to solve. Often that story is deeply personal and offers me insights not only into who they are as individuals, but also the worlds in which they come from." – Megan Mitchell
 "Recognizing that I am part of a community and my contribution (or lack of it) has impact on others and what they can or cannot achieve because of my actions." – Lesley Millar-Nicholson
 "Building businesses from scratch is an incredibly difficult, gritty, and uncomfortable experience that forces you to grow in ways you didn't even know you needed to! I'm addicted to not only the constant growth I personally get from being an entrepreneur, but also to the people who it attracts – they are the most exciting people in the world to be working alongside." – Carly Chase
Conclusion
At MIT, our definition of entrepreneurship has evolved from a focus on startups to an entrepreneurial mindset – we see entrepreneurship as a skillset and a way of operating. We need entrepreneurial attributes in all our organizations – whether it is within a big company, a small company, or a university environment.
These women bring that entrepreneurial mindset to their roles in helping curious entrepreneurs in corporate environments, ready-to-go entrepreneurs, and amplifiers in their communities. They cover the developing world, emerging markets, and corporate innovation. We live in a changing world with changing needs, and students need to test and adapt their entrepreneurial skills.
Thank you to Jinane, Carly, Karen, Kit, Lesley, and Megan for your invaluable guidance to MIT's student entrepreneurs! As we all work together at MIT, we see all boats rise which is what makes the MIT community an amazing ecosystem.